In this article we are going to talk about how you can unlock the bootloader on your Nexus 6. As we all know by now, the main selling point of Android phones is the ability to customize them according to our wishes.
We only have to root the phone and then we can do everything we want. We can install custom ROMs, themes and even install another mobile operating system. On most smartphones, rooting is very easy. You only need to download a tool, connect your phone to your PC and then simply click the Start button.
Also Read: How To Enable Double Tap to Wake on Nexus 6
All these devices have an unlocked bootloader. But there are a few phones which have a locked bootloader and you cannot root them unless you unlock the bootloader. On some devices, the bootloader cannot be unlocked but fortunately, the bootloader on the Nexus 6 can be easily unlocked.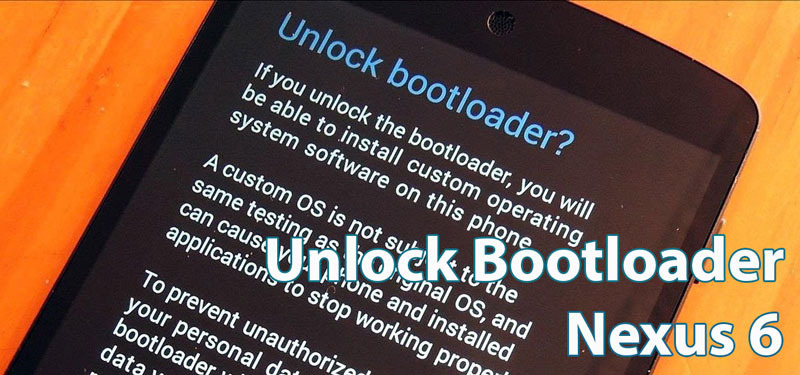 Once you unlock the bootloader on your phone, things that you can do with your Nexus 6 are endless. But before getting too excited, lets actually unlock the bootloader first and then do the fun part.
There is no risk involved in this process if done right and instructions are carefully followed. However, just in case something goes wrong, it is recommended to make a full Nandroid backup of your phone or simply backup the most important apps.
Unlocking the bootloader of the Nexus 6
Go to the Settings menu.
Go to About Phone and quickly tap on the Build Number to enable Developer Options.
Go to Developer Options and check the Enable OEM Unlock box.
Again in Developer Options, enable USB Debugging.
Take your Nexus 6 and turn it off. Press and hold the Power button and tap on Shut Down or Turn off.
Boot your phone to bootloader mode by pressing the Volume Down + Power buttons at the same time.
Connect your phone to your PC.
Open Command Prompt and type: cd Desktop/android-sdk-windows/platform-tools. This will depend on the location where you have installed the drivers.
Now type: fastboot devices
If your phone shows up, then you have successfully installed the drivers and the phone can communicate with the computer. If the phone doesn't show up, install drivers following this guide.
Type fastboot oem unlock. A pop up on the phone will show up asking you if you would like to unlock the bootloader. Use the Volume buttons to select Yes.
The final command that you have to run is fastboot reboot.
Also Read: How To Install TWRP Recovery on Nexus 6 and Nexus 9
Now you phone will reboot and the bootloader on your Nexus 6 will be unlocked. Now follow the guide how to easily root the Nexus 6.