Here is the full guide on how to unbrick, unroot and restore stock firmware on your Samsung Galax Note 3.  Rooting an Android device is something normal nowadays. There are many rooting tutorials on the internet now and everyone can do it. Installing custom ROMs is also popular. It offers new user interfaces that suit better to someone. The problem is, rooting and flashing custom ROMs on your Galaxy Note 3 may cause problems, from the loss of warranty to a soft brick and the worse of all, hard brick.
You can recover the warranty by unrooting your phone and installing the official firmware your phone originally came with. You can't do anything to repair a hard bricked device because it is totally dead. However, you can unbrick a soft bricked Galaxy Note 3 which is stuck at Samsung's bootanimation. The following guide will teach you how to install a stock firmware so you can recover your lost warranty or unbrick your bricked Note 3.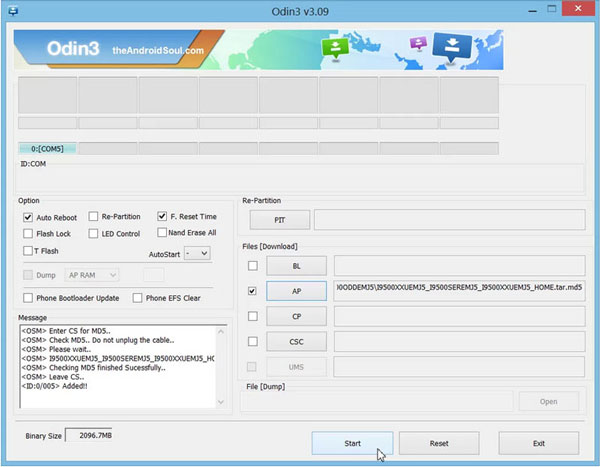 Prerequisites:
1. You must have Galaxy Note 3 USB drivers installed. Guide here.
2. The phone should at least have 70% battery remaining.
3. USB Debugging is enabled. Settings > Developer Options > Enable USB Debugging.
4. Download Odin3 v3.09 (link) and stock firmware (link)
How to Install:
Step 1 – Turn off your Galaxy Note 3 and go to Recovery Mode by pressing and holding at the same time Power + Home + Volume Up buttons. Inside Recovery Mode wipe data, cache and dalvik cache.
Step 2 – Go to Download Mode by doing the same button combination only this time press the Volume Down button of Volume Up.
Step 3 – Connect your phone to your PC through a USB cable and open Odin3. The ID:COM box inside Odin will turn blue. This indicates your phone has successfully connected with the computer.
Step 4 – Take the stock firmware, extract it and then you will get a tar file.
Step 5 – Inside Odin, go to PDA, select the extracted file and press install. Make sure that Re-Partition is unchecked.
Step 6 – After a few minutes, your Galaxy Note 3 will reboot and will be brand new as long as software is concerned.