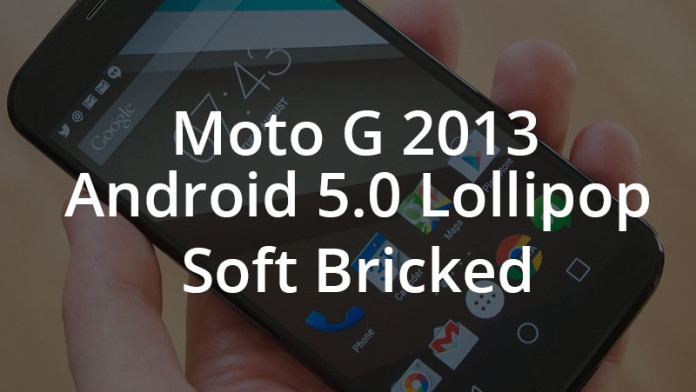 If you are one of those Moto G users who managed to soft brick the phone while updating to Android 5.0 Lollipop, we have some good news for you. You can easily unbrick your phone. The Android 5.0 update rolled out a few days ago for the Moto G and it could be installed through OTA or by flashing a ROM zip file.
If you received the OTA notification or tried to update by flashing the zip file, there are chances that you might have bricked your phone. This doesn't normally happen, unless you haven't carefully followed the guide.
Also Read: Install CyanogenMod 12 ROM & Gapps on Moto G XT1032
There are two types of bricked devices, soft bricked and hard bricked. Hard bricked devices are totally dead. They do not turn on and do not response when the power button is pressed. A soft bricked device responses to the power button but it is stuck indefinitely on the boot animation logo.
If you have soft bricked your Moto G while trying to install the Android 5.0 Lollipop update, you can easily unbrick it by following the guide below.
You don't have to downgrade to Android 4.4.4 KitKat as the guide works with Lollipop ROMs too. Before starting, you need to have a custom recovery installed.
How to unbrick soft bricked Moto G
Boot your phone to Recovery Mode. ADB is enabled by default so you don't have to do anything else.
Open CMD and type: cd directory-with-adb.exe-and-fastboot.exe
Now type: adb devices
If Moto G drivers have been successfully installed, the phone will show up. If not, you can download them here.
Download Moto G ROM here and rename the file to rom.zip.
Wipe /data and media in Recovery.
Open CMD and execute: adb push rom.zip /sdcard/rom.zip
Install the ROM.
Also Read: How To Get More Free Space on Moto G By Moving Dalvik Cache
That is it. You have successfully installed another ROM on your Moto G and the phone is no longer soft bricked.