How to restore your Nexus 5 to its original factory settings? The Nexus 5 is one of the most popular devices when it comes to developer support. Many people create endless mods, custom ROMs, kernels and a lot of ways to root the device. It is a paradise for every Android smart phone.
But after some times, you might not want root access or custom ROM installed anymore for a few reasons. Your Nexus 5 might be not working correctly and you want to send it back to the store under the warranty. But the warranty is voided  once the phone has been rooted. Or you want to sell it and want to delete all installed apps.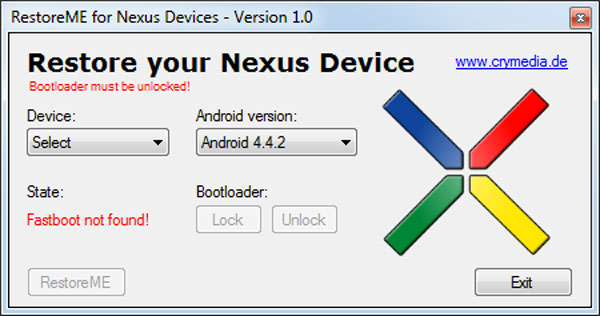 Restoring the Nexus 5 to its factory settings was a little bit tricky, but know you can easily do it with RestoreME Tool. RestoreME is a simple yet very helpful tool. It factory resets, unroots and locks the bootloader of the Nexus 5.
Download RestoreME Toolkit for Nexus 5 here.
Requirements
a) Your phone must be rooted and the bootloader must be unlocked.
b) You must be in fastboot in order for the toolkit to recognize the phone.
c) It works only with Windows 7, 8 and 8.1
The toolkit only works with Android 4.4 KitKat and it also supports other Nexus devices such as Nexus 4, Nexus 7 and Nexus 10.