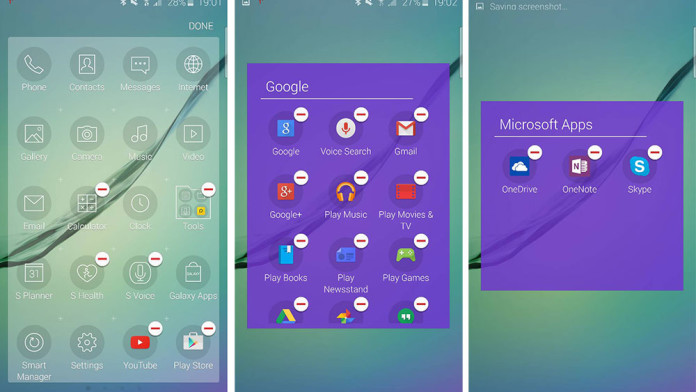 How to remove all the useless and annoying bloatware apps that come on this phone? This will be the first thing you will ask after buying the brand new Samsung Galaxy S6, or its brother, the Samsung Galaxy S6 Edge. If you are a power user, than you know that every little thing makes a difference, especially when performance comes into place.
Over the years, Android has improved so much that lag has almost disappeared. The performance is excellent with no annoying lag issues. The Samsung Galaxy S6 and Galaxy S6 Edge come with Samsung's own Exynos processor. According to benchmarks, it is the fastest and most powerful chipset out of all, blowing the Snapdragon 810 out of the water.
Overall, both the Galaxy S6 and S6 Edge are true powerhouses. No matter what you throw at them, it won't be a problem for the flagship phones. Actually, the problem stays at the Touchwiz firmware of these devices. Touchwiz is the most criticized launcher or skin for being way too heavy for a normal phone to operate without any lag.
Samsung has heard all the bad reviews and decided to slim down the Touchwiz version that comes on the Galaxy S6 and its brother. Compared to previous flagship devices, the Galaxy S6 has noticeably less bloatware apps.
How To Disable and Uninstall Bloatware Apps on Samsung Galaxy S6 and Galaxy S6 Edge
While having less bloat apps is a nice thing to have, if you are a power user you know that every bloat app should be removed, no matter how intensive it is. The Samsung Galaxy S6 and S6 Edge carry a few bloat apps, including Microsoft OneDrive, OneNote, Skype and all Google apps. Being used with Google apps, there is no reason to keep the Microsoft programs.
Luckily, Samsung has made the process of removing useless and bloat apps very easy. There is no need to have root or anything complicated. All you need to have is your phone and you are ready to go.
Go to the app drawer of the Touchwiz launcher.
Hold the Recent Apps button to launch the launcher menu.
Select "Uninstall apps".
All the apps that can be uninstalled will have a minus sign at the top.
Delete all the apps you want.
That is basically it. You can delete a good number of apps including calculator, S Health, S Voice, all Google Apps like Books, Newsstand, Games, Google+, as well as Microsoft OneDrive, OneNote and Skype.