How to record 4K Ultra HD videos on the iPhone 5s with iOS 7. Apple has always put an 8 MP camera on various iPhone variants including the iPhone 4S, 5, 5S and now the iPhone 6 and 6 Plus. And all of these devices are able to record 1080p FHD videos at 30 fps and newest models can record slow motion videos at 120 FPS and 240 FPS.
On the other side, Android devices have much better cameras with 13 MP, 16 MP and even 20 MP sensors which can record not only 1080p FHD but also 4K Ultra HD. 4K is the newest video resolution. It is a lot sharper and clearer than Full HD.
Also Read: Side By Side Comparison – iPhone 6 vs. iPhone 5s
Android devices have had this feature for a while now thanks to huge sensors and super fast processors. But now, you can enable 4K UHD video recording on your iPhone 5s too even though Apple hasn't made it available. An application has been released on the App Store which make it possible to do this exactly this.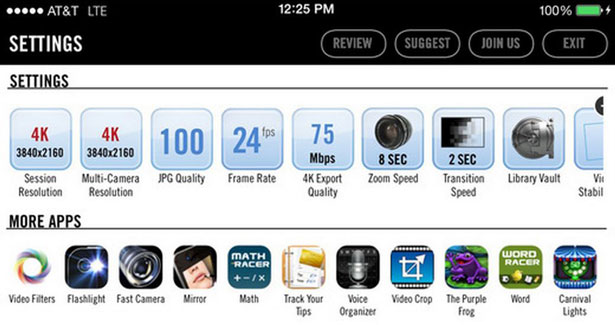 Actually, the app doesn't actually record any videos. It captures full 4K resolution photos at a rate of 24 FPS. So it captures 24 photos every second. Then, the app turns all the photos into one full 4K video at 24 FPS. There is audio and you can edit transitions, titles and  scrolling credits.
At the moment, the app works only on the iPhone 5s with iOS 7 and it requires at least 32 GB or 64 GB of memory storage because the final video takes a lot of space. You can download the app right now from the App Store on your iPhone 5s. The only problem is the price.
Also Read: Best Features of iPhone 6 & Why You Should Buy It
If you want to buy this app, you have to pay $999.99 or better say $1,000. This is a very high price for an iPhone app. With that price you can buy a full camera which can record at native 4K. If you don't mind the price and want 4K recording on your iPhone 5s, go ahead and download the app.