How to perform a full factory reset on the Samsung Galaxy S5? Factory resets are always a good thing to do when a smart phone starts to slow down. It deletes all installed apps and any saved data such as browser history, cookies and cache. Most importantly, it  will make the device a lot faster and more responsive.
The Galaxy S5, even though it is a beast of a device, it may require a factory reset after some times. Obviously, not now. But after many custom ROM and mod installations which may slow it down. A factory reset is not good only to delete installed apps. It can also reset the password if you have forgotten it.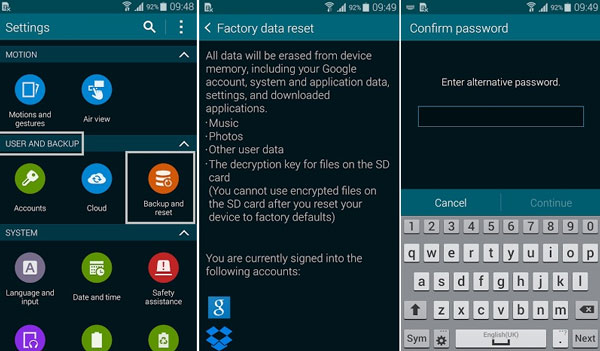 Before following the guide below, make sure your phone has at least 50% of battery left and you have backed up all your important data and files.
There are two ways to factory reset the Samsung Galaxy S5. The first method is through the options menu. Go to Settings > User & Backup > Backup & Reset. There is an option called "Factory  Reset". Press it and then your phone will give you a warning telling you that everything is going to be deleted (Not your photos and music). Then you need to type your email's password to confirm your identity in order to allow the phone reset itself.
The second way is through Recovery. Go to Recovery Mode by pressing Power + Home + Volume Up buttons at the same time for a few seconds. Inside Recovery, go to Wipe Data & Factory Reset and tap it. Select yes and then the phone will automatically be formated.