In this article we are going to learn how to overclock and change the frequency of the processor of the Samsung Galaxy S5. The Samsung Galaxy S5 is one of the fastest smartphones on the world. Samsung's flagship device for 2014 comes in two different variants.
The first variant has the Snapdragon 801 processor clocked at 2.5 GHz and Adreno 330 GPU with the SM-G900F model number while the second variant has the fast octa-core Exynos chipset clocked at 1.9 GHz and Mali-T628 MP6 GPU with SM-G900H model number. In both cases, the Samsung Galaxy S5 is a true powerful beast.
Also Read: How To Fix Galaxy S5 Camera Has Failed Warning Problem
However, not all are happy with the performance of the Samsung Galaxy S5. The good thing is that the Samsung Galaxy S5 can be overclocked and a normal user can easily change the frequency of the processor, be it for better performance or even better battery life.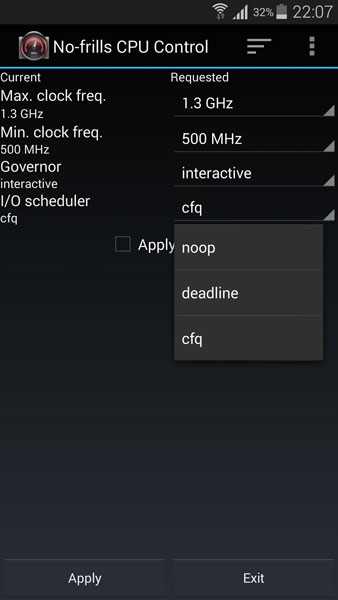 But how to overclock & change the processor frequency on the Galaxy S5? To change the frequency, you will need a few things:
– Rooted Samsung Galaxy S5 device. (Tutorial)
– No-Frills CPU Control app (link)
–  Custom kernel (Optional)
How To:
1. Download and install No-Frills CPU Control app. This app will be used to change the frequency of the processor.
2.  Open the app. There are a few options like Max Clock Frequency, Min Clock Frequency, Governor and I/O scheduler. To change the maximum processor frequency, tap the Max. Clock option and change the frequency to whatever you like. Don't set it too low because the phone might lag and freeze.
3. Do the same thing with the minimum processor frequency.
Also Read: Flash Stock Galaxy S5 Deodexed & Zipaligned Firmware
If you don't want to change the frequency but still want better performance or better battery life choose a different governor. There are a few governors that you can choose from like powersave and performance.
If you don't have the option to set the frequency higher than the maximum frequency set by the manufacturer, the kernel which the phone is using doesn't support overclocking.