How to install a custom Recovery on my Samsung Galaxy S5? This is a question that many users make when they root their phones and are looking after a good and stable custom ROM. It isn't a lie that in order to take full benefit of an Android phone, you must root it.
That is correct. With a rooted phone you can use applications that require special permissions, overclock the processor, uninstall bloatware and even improve the battery life. But, there is another important part of Android: ROMs. Custom ROMs are modified firmwares by experienced developers who aim to make the phone faster, improve battery life and install useful applications.
Also Read: CyanogenMod 12 5.0 Lollipop ROM for Galaxy S5 (Download & Install)
A user can do these even without installing a ROM, but it takes a long time to find the optimal settings and applications. Meanwhile, the developer has done this for you and you simply need to install the ROM. With only root access, you cannot install it. You also need a custom Recovery to install a ROM.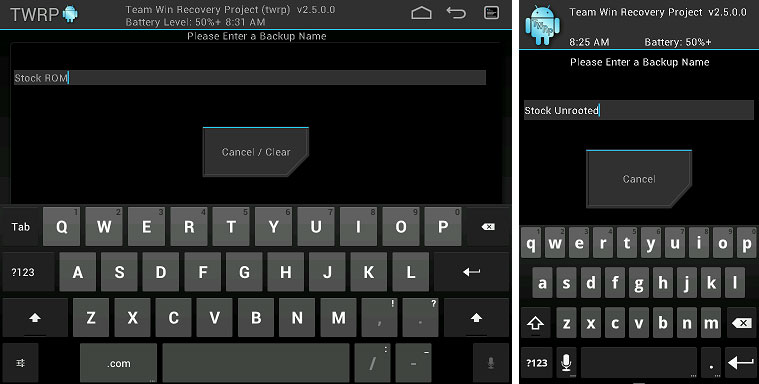 One of the best Recoveries for Android and Galaxy phones is TWRP. TWRP Recovery which stands for Team Win Recovery Project, is one of the most popular and used recoveries for Android. It has an active developement team to support various devices and the program itself has tons of features.
TWRP has a full touch driven user interface so you can easily go through options without having to use volume buttons to go up and down and the home button to select an option.
With TWRP, apart from installing a ROM on your Samsung Galaxy S5, you can also make a full system backup (NANDROID) and use ADB transfer.
How to download and install TWRP Recovery on Samsung Galaxy S5
Download TWRP Manager from the Play Store. The application needs root access. That's the moment when root privileges come in handy.
Once you have downloaded the app, open it and grant Root permissions.
Go to Advanced and select Install TWRP and verify the correct name of your device
Also Read: Galaxy Note 4 Accuweather Widget For Galaxy S5 Download and Install
Wait for your phone to reboot. That is it. Now you have successfully installed TWRP custom Recovery on your Samsung Galaxy S5.