The most popular recovery for Android devices, TWRP, has received an update which brings a lot of fixes and new features. The TeamWin Recovery Project has become one of the most popular custom recoveries for Android throughout the years.
There are any other custom recoveries besides TWRP but this one takes the crown as it features options and settings that no other recovery has. Some features that make TWRP 2.8.3.0 better than others include a fully touch-friendly user interface, themes and the ability to flash files without having to use fastboot.
Also Read: How To Install TWRP Custom Recovery on Galaxy S5
Having a fully touch user interface makes everything easier. Flashing a custom ROM, theme or kernel becomes a piece of cake. You don't have to scroll up and down using the volume buttons. You simply select what you want by taping on the screen and you are good to go.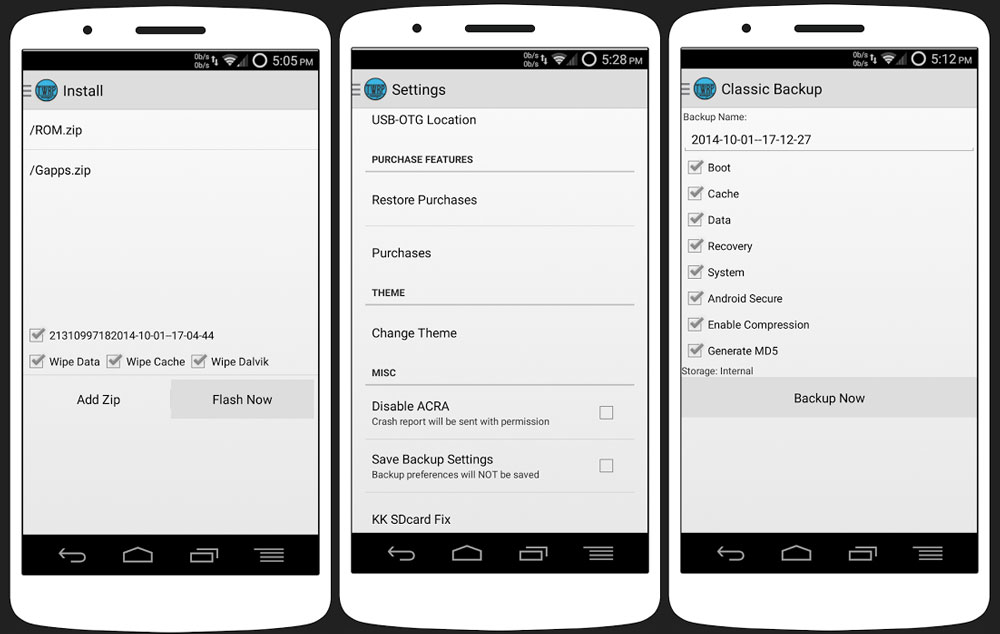 How can the best recovery become even better? By adding more features and fixing all the bugs. The TeamWin Recovery has released the latest update, TWRP 2.8.3.0 which is one of the biggest updates this recovery has ever received.
SuperSU has been updated to 2.40 for better support for Android 5.0 Lollipop devices and library requirements for 5.0 L decrypt have been reduced.
Thanks to the update, now MTP will report the correct max file size, the recovery works better on AArch64 and unicode fonts on devices with True Type Font are supported.
TWRP 2.8.3.0 also brings other minor fixes and improvements.
Installing TWRP 2.8.3.0 custom recovery
There are two ways of installing TWRP 2.8.3.0 recovery on your phone. You can either install it by using TWRP manager or by downloading the recovery image. Both of these methods are good, but TWRP manager is preferred.
Also Read: How To Install TWRP Recovery on Nexus 6 and Nexus 9
Download TWRP manager app here.
Install the app and open it.
Select "Install TWRP".
Select your phone model.
Select Install Recovery.
Now the new recovery should be installed. To boot into Recovery mode, turn your phone off and press the Volume Up + Home + Power buttons. If that doesn't work, press the Volume Up + Volume Down + Power buttons at the same time. Not all devices have the same button configuration.