Follow this article to learn how to update the Realme 7 to Realme 2.0. The company announced the latest UI version a few months ago, and now it is rolling it out to all Realme 7 users. Realme 2.0 is based on Android 11 and its focus is in three directions: Creativity, Sociability and Productivity. Some of the new features include Always-On display with five different themes, improved Dark Mode, Realme Share, Subtitle Stitching, Private Space,  Digital Health, Floating Window, and more.
Now, Realme is releasing Realme 2.0 to Realme 7 devices. As of this moment, the company has opened up the Android 11 Beta program, and you can join right now.
How To Join Realme 2.0 Android 11 Beta Program on Realme 7
This is a beta program. This means it is not completely stable. There might be a few bugs while using the new version. Do not install this build if you want a stable firmware. This is only for those who want to taste the new Realme 2.0 experience.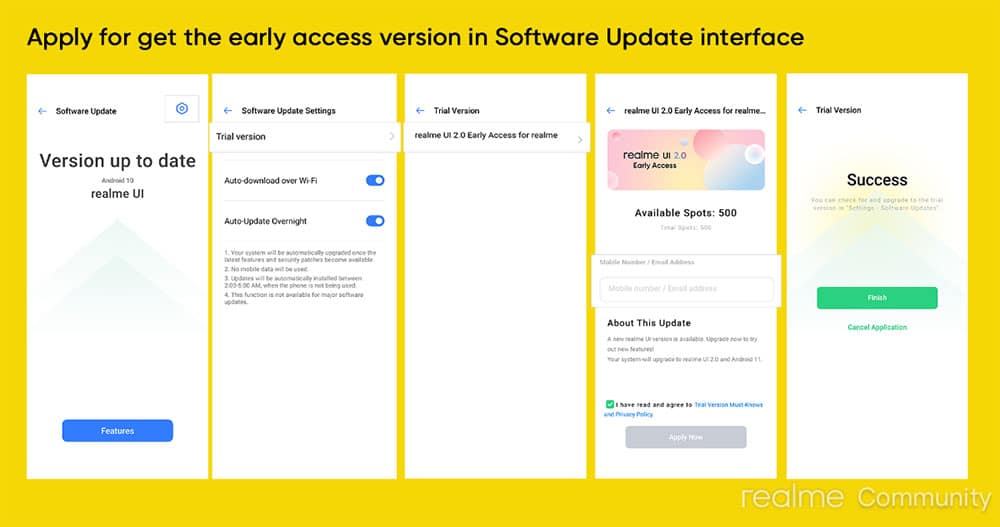 Unlock your Realme 7 and open the settings menu.
Scroll down and tap on Software Update. The phone will say that your version is up to date.
Tap on the gear icon on the right side of the screen. This will open the "Software Update Settings" panel.
Tap on the first option that says Trial Version.
Tap on "realme UI 2.0 Early Access for realme".
You will see a registration page. Enter your details and tap on Apply Now.
Once you have applied for the beta program, you will receive the update through a software update (OTA). We should note that the early access program is available only to the Indian variants only. The good news is that the stable public release is close, considering that beta testing is already underway.