If you want to connect your Nexus 5 to your computer to do different things like rooting and installing different firmware, you should install its USB drivers so the computer will recognize your phone. Installing the USB drivers is quite a simple and fast process.
All you have to do is to download Nexus 5 drivers zip file, connect your phone to your computer, select the downloaded zip file and that's it. However, you might get stuck at some point during this process and can make a mistake.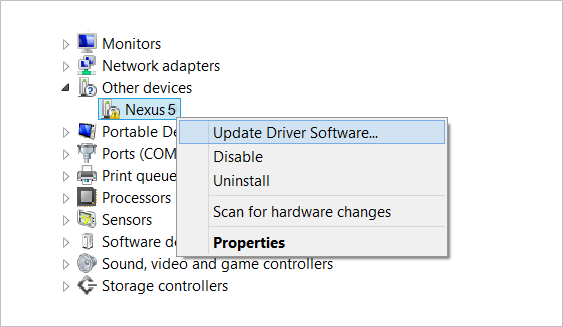 That's why you should check out the tutorial below on how to install Nexus 5 USB drivers:
1. First of all, you should download USB drivers zip file here and extract it.
2 Enable USB Debugging by selecting it at Developer Options Menu.
3. Connect your phone to your PC using a USB cable.
4. Go to Control Panel > Device Manager and there you should find Nexus 5 as an installed device.
5. Right-Click on it and select Update Driver Software.
6. Choose to browse your computer's files. Go and select the extracted zip file.
7. Just click install and USB drivers will start installing.
8. Once the installation process is over, you are done. That's it.