Android One line was created by Google aimed towards countries that cannot afford to buy expensive flagship devices. Android One fixes this as it offers smartphones with decent hardware at a very low price tag. You get a lot for what you pay. That is why Android One smartphones have become so popular selling hundreds of thousands of devices in India and other Asian countries.
Besides having great hardware at a low price, these devices have a lot of support regarding software updates. After Nexus devices, the Android One line is the second one to receive the latest updates. Android 5.1 Lollipop was announced and launched just a few weeks ago and now some of the most popular Nexus devices are already rocking it.
Now the time has come for Android One devices to enjoy Android 5.1 Lollipop. Forum member "ghpranav" has captured the official OTA Zip files of Android 5.1 update for all the Android One smartphones, including Micromax, Karbonn and Spice.
These are the latest builds and come with the build number LMY47O. This build number is much better and more recent than LMY47O. The performance is flawless, with no known problems and users who have updated to Android One have only said good words.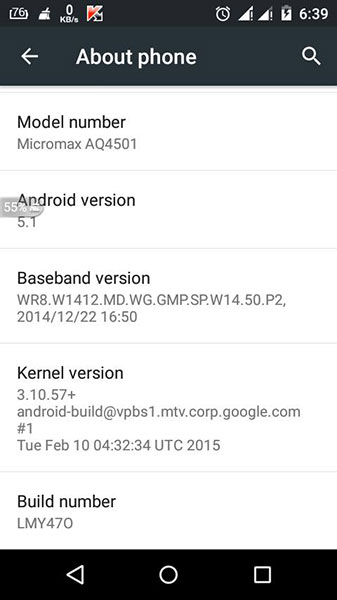 If you cannot install the update using the usual method which is going to Settings > About Phone > Software Updates, then do not worry. You can download and flash the OTA Zip file instead.
How To Install Android 5.1 Lollipop OTA Zip File on Android One Devices
First thing, make sure that you are running on a stock ROM. This will not work if you are running on a custom ROM. You can be rooted and use any custom recovery you want.
Downloads
Micromax Canvas A1: d827aed7f4da8fcedfcd24c8d67e97977b610120.signed-sprout-mmx-ota-1783956.d827aed7.zip
Karbonn Sparkle V: 7c11ac385d16129f995e502ac0ed8f99e38ddeba.signed-sprout-karbonn-ota-1783956.7c11ac38.zip
Spice Dream UNO: 4ad4c12368e9072af4600ae8f2547c4de706aa46.signed-sprout-spice-ota-1783956.4ad4c123.zip
Download the ZIP file and move it to your phone.
Press the power button to turn the phone off.
Press the power and volume up buttons at the same time.
Highlight Recovery and press the power button to select it.
The Micromax logo will appear and then a dead Android with an exclamation mark "No Command" will show up.
Press the power and then volume up button to boot into recovery.
Find the folder where the Zip file is and flash it.
Then reboot your phone.
If you have an Android One phone but do not live in India, using a file explorer, go to oem.prop and change the values as following:
ro.product.device=AQ4501_sprout
ro.product.name=AQ4501
ro.product.manufacturer=Micromax
ro.product.model=Micromax AQ450
Wait for the phone to turn on. Enjoy Android 5.1 Lollipop on your Android One. The best part of this method is that you don't have to wipe data and perform a factory reset, so all data is saved.