While we are waiting for some of the most popular Samsung devices to receive the official Android 5.0 Lollipop firmware, the 4.4.4 KitKat update for the Galaxy Note 3 Verizon has just started to roll out. Looks like Verizon didn't skip Android 4.4.4 for the Galaxy Note 3.
Everyone is waiting for the Note 3 to receive the official Lollipop update in the following weeks, especially after a video showing a beta Lollipop Touchwiz build running on the phone. Still, Verizon decided to update the phablet to 4.4.4 KitKat instead of releasing the 5.0 Lollipop firmware.
Also Read: How To Install CyanogenMod 12 ROM on Galaxy Note 3
The update is mostly to fix some bugs and add new applications. New improvements have been made, new apps are preloaded and many issues have been fixed.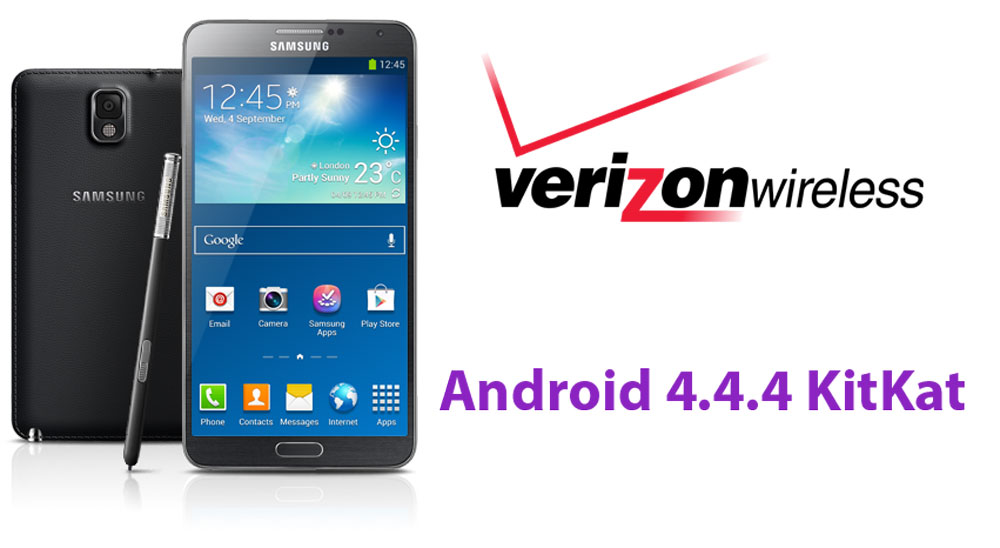 Verizon Support and Protection has been updated as well as Caller Name ID and Isis Wallet is changed to Softcard.
Knox 2.0, Side Sync Call Forwarding Framework, Virtual Tour Camera Mode and Kids Mode are now preloaded into the firmware.
Bugs have been fixed too. Voice call performance, 4G data connectivity have been improved and Bluetooth audio issue when phone is connected to WiFi is fixed.
Installing 4.4.4 KitKat update on Galaxy Note 3 Verizon  SM-N900V
Tap the menu key and go to Settings.
From there, scroll down to About Phone.
Go to Software Updates and tap on Check for Updates.
Tap on Download Now.
Wait for the update to download
Click on Install Now.
Also Read: Install Galaxy Note 4 Weather Widget on Galaxy Note 3
Your phone will then reboot and say that the installation process has been completed. Now you can enjoy better 4G performance and new applications.