How to fix draining battery problem on the Samsung Galaxy Note 4. The latest phablet from Samsung features a 3220 mAh battery. By itself, the battery is bigger than most of the batteries on other smartphones but compared to the Note 3 battery, it is only 20 mAh bigger.
Even though it is not a lot bigger compared to the Note 3, the battery life is noticeably better thanks to Samsung's optimizations. The Touchwiz firmware has been tweaked and optimized to offer better battery life.
Also Read: How To Fix Lag Problem on Samsung Galaxy Note 4
Also, it features Quick Charging which allows the phone to charge to 50% in just 30 minutes and to 100% in one hour. Recently, a lot of users have reported bad battery life on the Samsung Galaxy Note 4.
The battery doesn't last all day even on light usage and screen on time doesn't go beyond two hours. Simply rebooting the phone and taking out the battery for a few minutes will not fix Galaxy Note 4 draining problem.
How to improve Galaxy Note 4 battery and fix draining problem
Disable or remove bloatware. One of the biggest reasons why the battery draining problem occurs on the Note 4 is because of too many applications installed.
The Note 4 is full of features and has a lot of applications that improve user experience. But there apps that you don't really use a lot and there is not point on having them on your phone. So, disabling or deleting them is the best option. Read out guide how to remove bloatware from the Galaxy Note 4.
Use an advanced task manager. Stock Android task manager is great for removing running apps but it is very limited compared to applications that you can download from the Play Store.
One of the best apps is Clean Master. It removes all junk data and is frequently monitoring the phone for all activities that are running on the background which drain the battery. So this app will really improve battery life.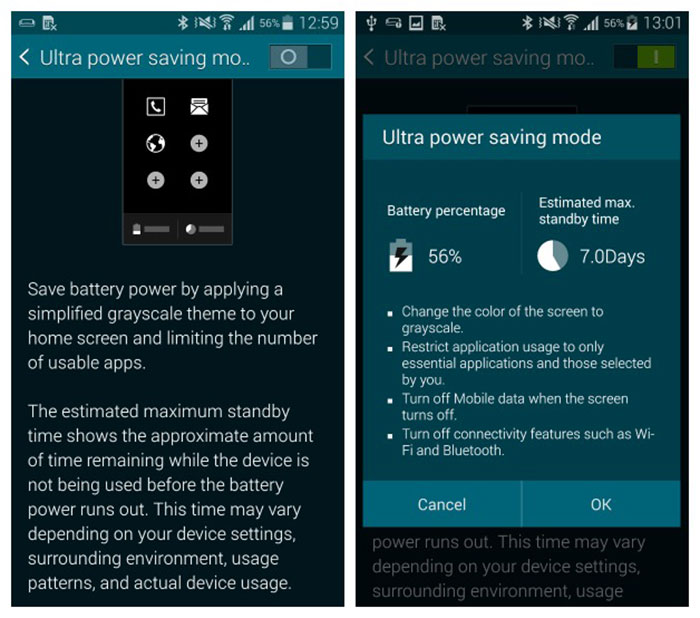 Enable power saving mode. Among all the features that the Galaxy Note 4 has, one of the most useful ones is the battery power saving mode. This feature can enable Grayscale mode which turns the screen into black and white, block background data and restrict performance.
Also Read: How To Increase Samsung Galaxy Note 4 Speaker Volume
If you don't want to make the performance slower, disable the restrict performance option. If you really want to improve battery life, you have to enable restrict performance and even Ultra Power Saving Mode.