How to get full iOS 7 theme on your Android device through Xposed and Theme Chooser. There have been a lot of discussion about which mobile operating system is better: Android or iOS and many people have different opinions. Some say iOS is better because it is faster and simpler and some say Android is better because you can customize it and do things you cannot do on iOS.
At the end, it is a personal preference. In terms of speed and performance, high-end Android devices are as fast and even faster than iOS devices. The biggest problem is which user interface you prefer and whether you want  a simple phone with not many features or a phone that you can customize.
Also Read: MIUI ROM for Samsung Galaxy Note 3 (iPhone/iOS Theme)
On Android you can install different themes. If you don't like the stock design of your firmware you can install a custom ROM or theme and completely change your phone. You can make the Nexus 5 look like Galaxy S5, Galaxy S5 like HTC One and more.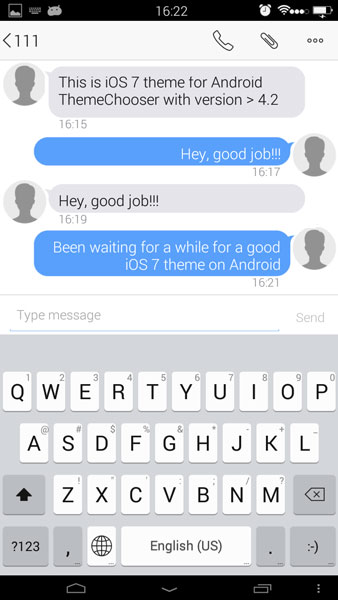 But you can also install a theme which will make your Android phone look like iPhone and iPad with iOS 7. If you have never used an iOS device and want to see how this operating system looks like, you can install the full iOS 7 theme.
Everything will be just like iOS 7. Your phone will have iOS 7 clock, battery icon, blurred background, white keyboard, signal position on the left, carrier label with custom text and a lot more. There are two ways you can install the theme on your phone.
1. Your phone should have Xposed framework and AOSP based ROM. Download theme, install and activate it. Reboot your phone and the entire system will be iOS 7 like.
Also Read: Top 4 Best Features of The New iOS 8 – Is It Worth It?
2. If you don't have Xposed but have CyanogenMod 11 ROM, download theme and, install it and activate it using Theme Chooser from the settings. Reboot your phone again.