Nexus 6 users are facing with probably the worst problem that can happen with their devices. This problem is called screen burn in. Google has played a lot with screen technology types on its Nexus line. The original Galaxy Nexus has a Super AMOLED HD display, the Nexus 4 has a IPS LCD HD screen and the Nexus 5 has a Full HD IPS screen.
Now, Google has brought the AMOLED screen back to the Nexus 6. The Nexus 6 features a gigantic 5.9″ Full HD Super AMOLED display. It is colorful, vivid, colors look like are popping out of the screen and it is pleasure looking at the display.
Also Read: How To Flash Custom ROMs on Nexus 6
It looks better than most other phones you can find on the market. The AMOLED display is known to have vibrant colors and much better viewing angles. These are two main reasons why Google decided to equip the Nexus 6 with an AMOLED display.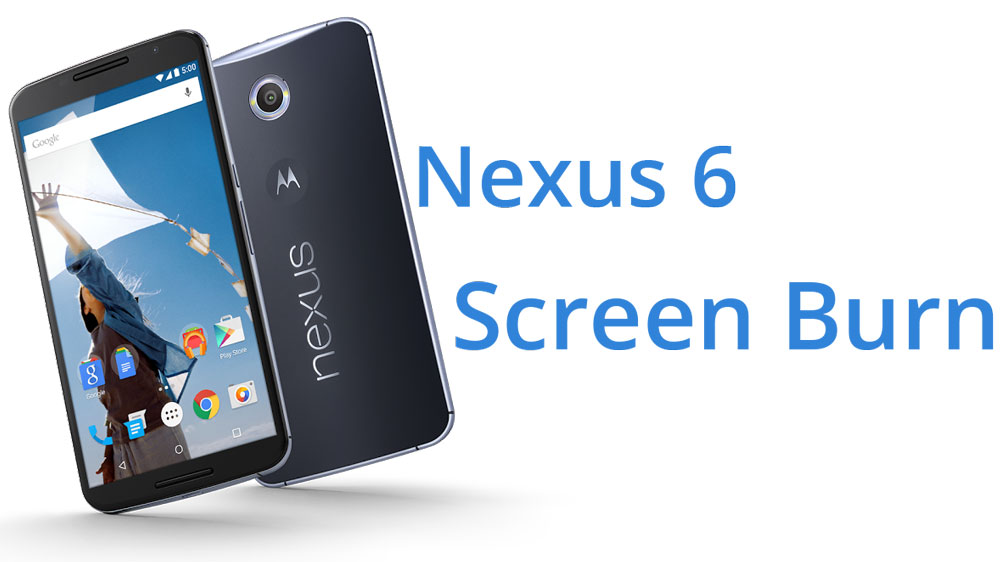 That is a good thing. Colors look much better and the screen is able to be very bright outdoors so the user can easily use the phone when the sun is up and shinning.
There is one big problem that prevents many users from using a phone which has AMOLED display. The problem is called screen burn in and affects all smartphones with AMOLED displays.
Screen burn in is a ghost image or permanent discoloration. This is caused when the same image is being displayed over and over again and the brightness is set to max.
When a part of the screen burns, it will show a light shadow of whatever has been burned in. For example, if the screen has burned in near the notification bar, you will see a light shadow of the battery icon and timer.
On most cases, this cannot be fixed becauase as the description says, screen burn in is a permanent discoloration. But Galaxy users have reported good things and in some cases they have managed to fix the problem.
How to fix Nexus 6 screen burn in problem
As we said above, the problem is caused when an image is displayed over and over again. To make the shadow less visible, you have to make the screen show different colors quickly. So, in one second, the screen has to display different colors. Doing it manually is impossible, so here's a quick way to do so.
Download screen burn in app fix.
Open the app and activate it.
The screen will start showing different colors.
Leave it like that for around 1 hour or even more.
Also Read: How To Fix Random Reboots Problem on Nexus 6
Stop the app and see if the burn in is harder to see. You can leave the app running for hours for better effects. As mentioned above, you will get good results if you are lucky.