How to fix Samsung Galaxy S5 Bluetooth problems like failing to recognize other devices or force closing every time you try to send a file to another phone? The Samsung Galaxy S5 has been considered as one of the best smart phones of this year for many reasons. One of these reasons is the software features.
The Galaxy S5 has many connectivity options and features. There are many ways you can transfer a file from the Samsung Galaxy S5 including Wireless, Bluetooth and even Samsung exclusive features like S Beam.
Also Read: Here's Why The Samsung Galaxy S5 Has The Best Camera for a Smartphone
However, S Beam works only with other Samsung devices which have NFC chip and S Beam support. So, the best way to transfer something from the Gaaxy S5 is with Bluetooth which is also the most convenient way because the other phone might not have S Beam or internet access.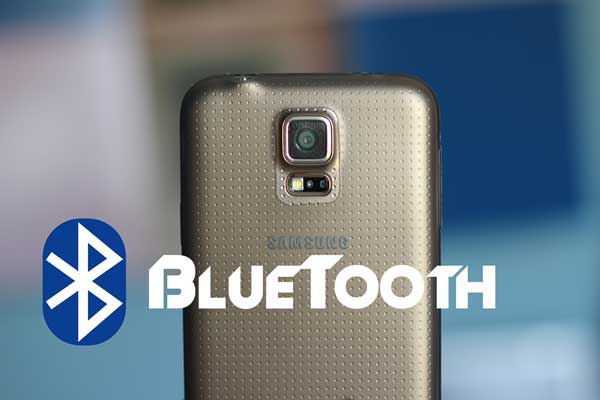 But what if Bluetooth doesn't work on your Samsung Galaxy S5? There are many cases reported from various S5 users which say that Bluetooth app force closes every time they try to send something to another phone or it is unable to find other devices in range. Since this is a common problem with the Galaxy S5, there are a few ways to fix the Bluetooth problem.
The first way is to to clear cache and data of the Bluetooth app. Sometimes, the app might get corrupted which leads to force closes. In order to fix the corrupted app, you need to go to Settings > Applications Menu > Application Manager.
There, got to the "All" tab and scroll down until you find the Bluetooth app with the name "Bluetooth Share". Open it and tap clear cache and clear data. This will clear all the data of the Bluetooth app and will make it work again.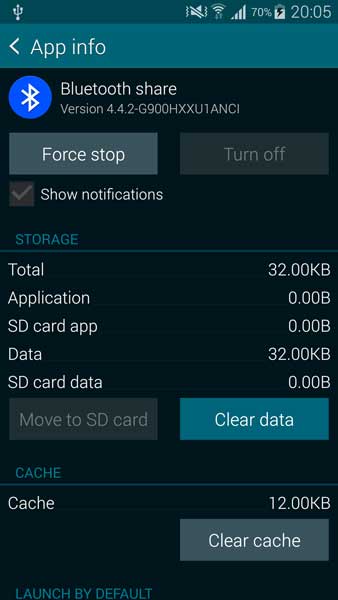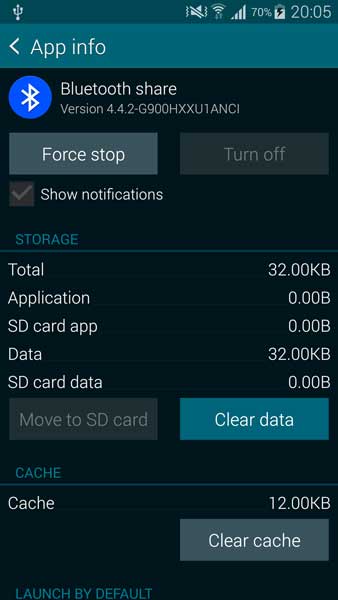 If Bluetooth still doesn't work after you have cleared cache and data, then turn your Samsung Galaxy S5 off and press at the same time Power + Home + Volume Down buttons to enter in Recovery Mode. Inside Recovery Mode press "Wipe Cache Partition" and "Wipe Data/Factory Reset" and reboot your phone.
Also Read: How To Check Galaxy S5′s Display for Dead Or Stuck Pixels
Warning: The second method will delete all install applications. Music, photos and videos will stay intact.
Once the Samsung Galaxy S5 has fully rebooted, Bluetooth should work again without any problems.