Nexus 7 users who have updated to Android 5.0 Lollipop are reporting a very serious issue. Lollipop is the latest version of Android and it brings a ton of new features and applications. The user interface is different, there are more features to improve battery life and make performance better and the overall user experience has changed.
Even though Android 5.0 Lollipop is one of the biggest updates, looks like it has brought new problems and issues. The latest problem appears to be with Nexus 7 devices who have just received the 5.0 Lollipop update. Users have reported many serious problems where the biggest one seems to be with Video Playback.
Also Read: Unlimited Screen Recorder For Lollipop (Unlimited Length)
Users who have tried to play a video on YouTube or open a video which is stored on the tablet, have received a warning message which says 'There was a problem while playing. Touch to retry". Even when you tap on the message to retry, the message still occurs.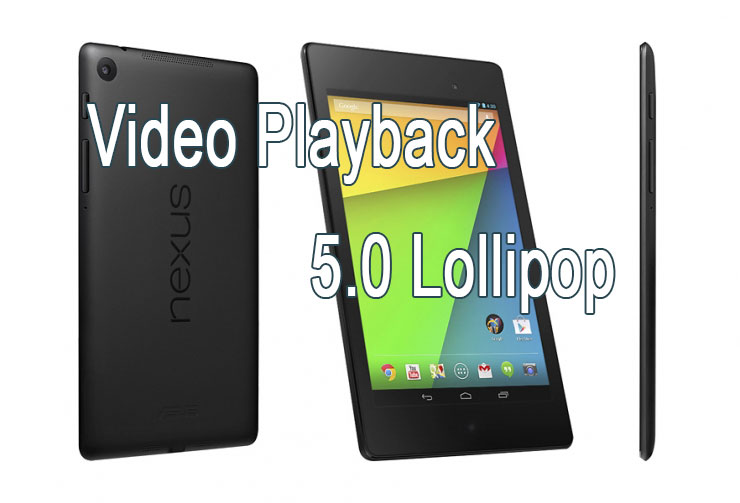 This is a very serious problem because you cannot watch any videos at all. And we all know that YouTube is one of the most viewed sites on the internet. Here are a few possible solutions to fix Nexus 7 video playback "There was a problem while playing. Touch to retry" error on Android 5.0 Lollipop.
Reboot your tablet
This is the solution that looks like to fix the problem temporarily. Turn your tablet off, wait for a minute and then turn your tablet back on. The video problem should be fixed.
Factory reset
Another solution is to make a factory reset. Turn your Nexus 7 off, boot into Recovery and wipe data and cache.
WiFi
If you are having problems viewing YouTube videos, go to WiFi and remove your current network. Reboot your tablet and connect again.
Also Read: Root All Nexus Devices on Android 5.0 Lollipop (CF-Auto-Root)
Google has acknowledged the issue and will fix it in a future update. If none of the solutions above do not fix the problem, wait for the update to hit your Nexus 7.
These kind of problems are expected, especially now that Lollipop has just been released. Lollipop is experiencing a lot of problems lately like performance and battery issues.