How to fix Google Play Services battery drain. Many Android devices have battery drain problems because of Google Play Services. This is an application which is pre-installed on all devices. It automatically updates Google apps and apps from the Play Store, synchronizes contacts and other high quality services.
Google Play Services is a great and useful app because it does a lot of things that you often forget to do. Updating all applications one by one isn't very efficient and it is time-consuming. But even though Google Service is great, it also has its own negative sides.
Also Read: How To Fix Overheating & Battery Drain Issue on the Samsung Galaxy S5, S4 and Note 3
Many users have reported very bad battery life because of Google Play Services. When you go to the Settings > Battery and watch the estimated usage of every app, you will notice that Google Play Services is the first one. This means that it is the app that is using the most battery juice.
Normally, the screen should use the biggest amount of battery life since it has to get a lot of battery to power the huge screens of Android devices. But when Google Play Services is on top, it means that something is wrong and those services are using more battery than needed.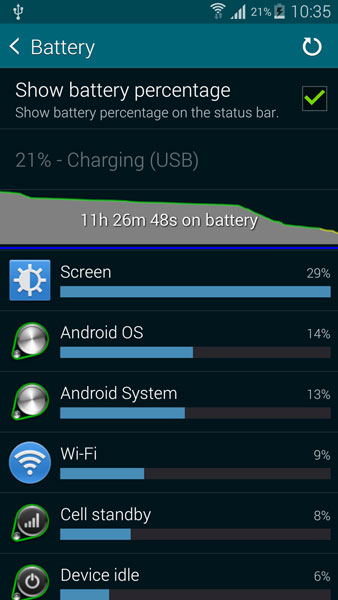 In some cases, the battery can go from full to empty in less than 1 hour. If there are a lot of applications which have to be updated then this is normal. But if you don't have any applications waiting to update, follow the solutions below to fix battery drain problem.
1. Disable Google Play Services
If the service is using a lot of battery and you don't know what to do, you should force stop the app. To do so, go to Settings > Apps and find Google Play Services. Open it and then you will have two options: Force Stop and Turn Off. Choose either option because both of them will disable the application.
Also Read: How To Benchmark Android Games For The Best Performance
2. Install Clean Master
Clean Master is the best application you can find on the market. It is the most popular and accurate Android cleaner. It detects any useless file which takes a lot of memory space and all activities which use more battery than needed. Install the app, open it and activate Memory Boost. This will disable all power consuming activities.