Learn how to fix the Samsung Galaxy S5 creaking battery back cover problem. The Samsung Galaxy S5 has a dimpled back cover which is often considered as "fake leather". The battery cover of the Galaxy S5 has a soft feel to it and feels very nice on the hand. The build quality is sturdy and many users are happy with their devices.
The problem is that many other users have reported a problem with their Galaxy S5 units. To be specific the problem consists with the battery back cover. Normally, the back cover of the Samsung Galaxy S5 doesn't move or make creaky noises when light pressure is applied.
Also Read: How To Check For Fake Samsung Galaxy S5
But this isn't the case with all Galaxy S5 devices. Some units have defective back covers which make annoying creaky noises and also move under the lightest pressure. These defective back covers can be fixed with a few simple tricks.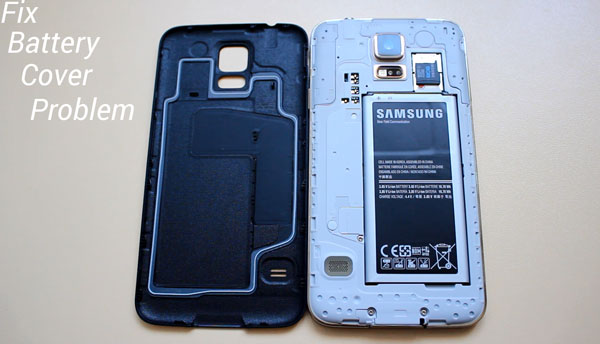 Not Properly Aligned
The main reason why the back cover makes noises is because it is not properly aligned. It is simple to think that the entire back cover is snapped in correctly. Remove the back cover and try to put it back on correctly. Then check if there is any part of the cover which hasn't  snapped in. If there is, simply press that part until it snaps in.
Damaged "Teeth"
Another reason is the damaged "tooth". Damaged "tooth" cannot correctly clip into the phone. This causes the annoying creaky sounds. Even if you press that part it won't get fixed. You need to see in which direction the "tooth" has gone and try to move it back to its original position.
Also Read: How To Calibrate Samsung Galaxy S5 Battery
Loose Screws
Loose screws of the phone are also another reason. Make sure all screws of the phone are screwed tightly because otherwise the plastic part of the phone will be too loose for the back cover to snap in. Do you still have the creaky problem on your Galaxy S5? Let us know below.