Enjoy all the features, applications and premium design of the Samsung Galaxy TAB S on your Android device. The Samsung Galaxy TAB S is the latest tablet line from Samsung and it is considered by many as the best tablet ever made.
The TAB S line has two tablets in different sizes. One has a 10.5″ display while the other one is smaller and has a 8.4″ display. One of the biggest features of these two tablets is the amazing Super AMOLED display. Many review sites consider the displays used on TAB S tablets as the best screens on the market.
Also Read: Samsung Galaxy S5 Mini Review & Full Specifications
Besides the amazing and gorgeous display, the TAB S line has also a thin design. They are 6.6 mm thin, thinner than every other tablet on the market. These two tablets have yet to become globally available for sale. If you can't wait to enjoy all the features and applications of the TAB S tablets, you can download Galaxy TAB S experience app.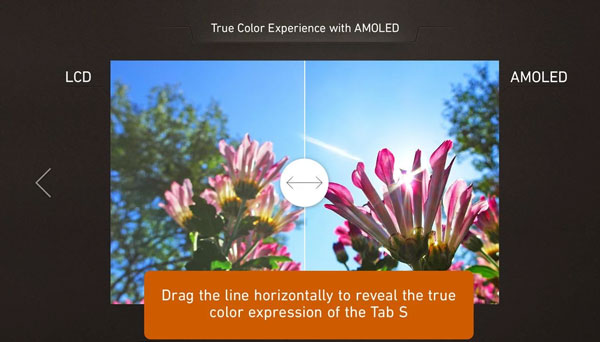 Galaxy TAB S experience app is an application developed by Samsung which allows you to surf and enjoy all the features of these two tablets. You can see the big difference between a normal LCD display and the Super AMOLED display used on the TAB S. Also, you can compare the thickness of the tablets with other objects such as a pen, magazine and notebook.
Also Read: Here's Why The Samsung Galaxy S5 Has The Best Camera for a Smartphone
Download Galaxy TAB S experience app here and enjoy all TAB S features and applications without having to even buy one.