The Samsung Galaxy S10 is the first phone with a Super AMOLED Infinity-O display. This means that the front of the phone is almost completely screen, with no noticeable bezels or other kinds of obstruction besides the front camera. All three flagship phones have a punch-hole cutout at the top right-hand corner to accommodate the front camera. The Galaxy S10e and S10 have a single front-facing camera, while the S10 Plus has a dual camera layout with a pill-shaped punch hole cutout.
Why Samsung removed the LED light
The completely bezeless front of the Galaxy S10 is one of the highlights of the phone, but this comes with a few downsides, one of them being the removal of the LED notification light. The LED light has been an important part on Galaxy phones since the release of the first Galaxy S phone until Galaxy S9 and Note 9. However, like everything else, the LED light took its fair share of space on the front of the display, and Samsung had to remove it to make room for the Infinity-O display.
The LED notification light is a useful feature, and a result, many users became disappointed when they learned that Samsung removed the LED light from the Galaxy S10. There is no way to check if you have new messages or notifications unless you activate Always On Display. Luckily, developers have created some innovative solutions. Taking cues from the animation that appears around the camera cutout when the front camera is activated, developers have turned it into the new LED notification light.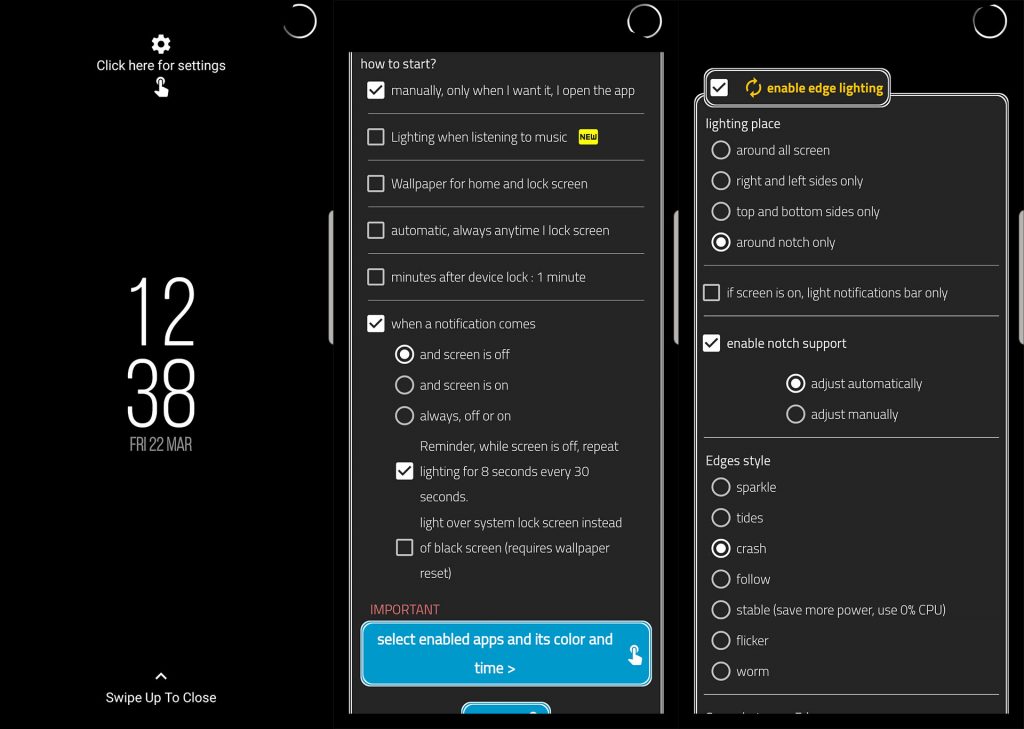 How To Enable Punch-Hole Cutout LED Notification Light on Galaxy S10
This method was inspired by Samsung's own animation implemented around the front camera cutout. When the camera switches from the back shooter to the front-facing camera, a cool animation will appear around the cutout to show that the front camera is active. The same animation can be seen when unlocking the phone with Face Unlock.
Download "Always On Edge" app from the Google Play Store.
Open the app and tap on Click here for settings.
Under How to start, enable When a notification comes and the screen is off.
Under Lighting place, enable around notch only.
Tap on Save.
Now when you receive a notification on your phone, the camera cutout will light up.
The program is customizable and you can change many aspects of the notification light. The app lets you choose when you want the LED to show up, for example when receiving calls, messages, notifications or when the phone is charging. Furthermore, you can enable LED lighting all around the screen, on the sides or around the notch. You can also select which apps you want to trigger the LED notification light.