Auto Awesome is a cool feature that enhances and makes your photos better. This feature can add different effects to your photos and it can even turn them into GIF photos by selecting a few images and combining them. This feature was available only for Android at first but later it became supported on iOS devices too.
The feature adds effects to your photos and creates new pictures. This means you have two photos. The original picture and the second picture with added effects.
Also Read: How To Recover Deleted Photos & Videos Android 2014
Auto Awesome feature is enabled by default. If you don't want to leave it enabled, there is a very easy and quick way to disable the feature on both Android and iOS devices.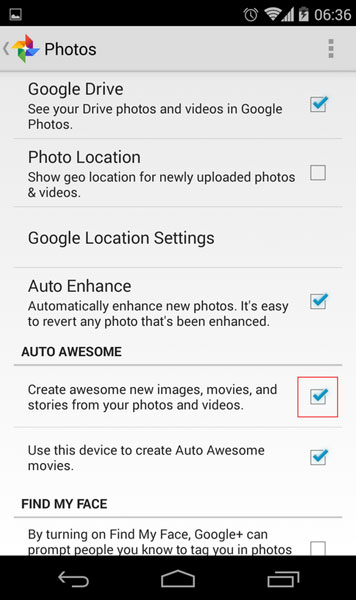 Auto Awesome feature is available and works only through Photos app. Go to app drawer and select Photos app. Make sure to select this app and not Gallery because they are two completely different things. Once you have opened the application, tap three little dots on top right corner and go to Settings.
Find Account Settings and tap on your account. A lot of options will show up like Google Drive, Photo Location, Auto Enhance but you need to find Auto Awesome group which says:
Create awesome new images, movies, and stories from your photos and videos
Also Read: Candy Crush MOD (Extra Time, Bomb Delay & Extra Moves)
Uncheck the box on the right side. Reboot your phone for the changes to take effect. Now Auto Awesome feature has been disabled and you will not be able to add effects to your photos.