TouchWiz has been heavily debated over the last years for being the slowest Android skin among all user interfaces available. Even though TouchWiz is the most popular skin since it comes on the popular Galaxy S line and Galaxy S6 and Galaxy S6 edge flagship phones, it is criticized for being slow and laggy.
Since Android is an open source platform, OEMs can take the OS and customize it by adding new features and completely changing the user interface. Samsung takes the stock Android Lollipop experience, adds its own features and changes the UI, turning it to TouchWiz.
There is no doubt that TouchWiz is the most completed skin with useful features. It has everything a user could possibly ever need including Multi Window, Pop-Up View and more. However, all the options and features that TouchWiz has are too intense and make the phone lag. As we have seen on the past, even 2 GB RAM devices suffered from lagging issue after a while of running on a stock TouchWiz firmware.
Samsung has noticeably reduced bloatware and useless apps on the Samsung Galaxy S6 and Galaxy S6 edge, making the experience a lot better and faster. Now, the Galaxy S6 and Galaxy S6 edge are almost lag-free running on a TouchWiz Lollipop firmware.
While the performance is noticeably faster on the Galaxy S6 thanks to reduced bloatware, it could be better. There are many other apps that slow down the performance, and one of them is the TouchWiz launcher. The TouchWiz launcher is one of the biggest reasons for high CPU and RAM usage. When the phone cannot provide enough RAM memory, the launcher redraws, causing major lagging issues. Here's how to remove the stock TouchWiz launcher found on the Samsung Galaxy S6 and Galaxy S6 edge and replace it with another, lighter launcher.
Install third-party launcher
The first thing you want to do is to install a third-party launcher. There are plenty of launchers that you can choose from on the Play Store. We recommend you Nova launcher, since it a stock launcher based on the pure Android 5.0 Lollipop Nexus experience. It can be customized to fit your needs.
Download: Nova Launcher
Select default launcher
Now that you have installed your preferred launcher, it is time to set it as a default launcher. When you press the power button, your Galaxy S6 will ask you which launcher you want to use, the stock TouchWiz launcher or the newly installed one. Select the new launcher and tap on "Always". This will tell the phone to always use the second launcher.
Delete Galaxy S6 TouchWiz launcher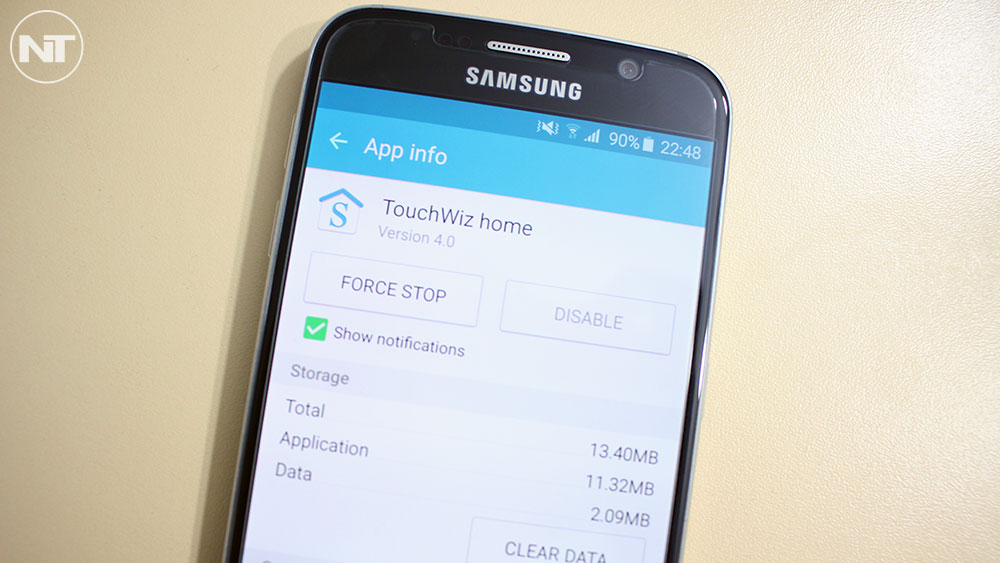 This is an optional step if you want to completely remove the Galaxy S6 and Galaxy S6 edge TouchWiz launcher from your phone. You need to be rooted and have Titanium Backup app installed.
Launch the Titanium Backup and open the list of all installed applications. Scroll down until you find an app called "TouchWiz home" and "TouchWiz easy home" and delete both.
That is it. You have successfully removed and replaced the stock Galaxy S6 TouchWiz launcher with another one.