How to back up and restore EFS files on Samsung Galaxy S5? Backing up EFS files on every Android device is a must, especially if you install a lot of mods and custom ROMs. EFS files contain all your phone's information which is needed to receive mobile signal and data. The most important thing is that they contain the IMEI number which is unique for every device.
There is one major reason why you always should backup EFS files. If you flash a custom ROM which has a different Android version or different bases, the EFS files may corrupt which cannot be fixed. At this point, when you to Settings > About Phone you will notice that Baseband Version and IMEI number fields are unknown.
This means that your phone doesn't receive mobile signal and you can't call or message anyone. If you have a backup, you can restore them and everything will be back to normal.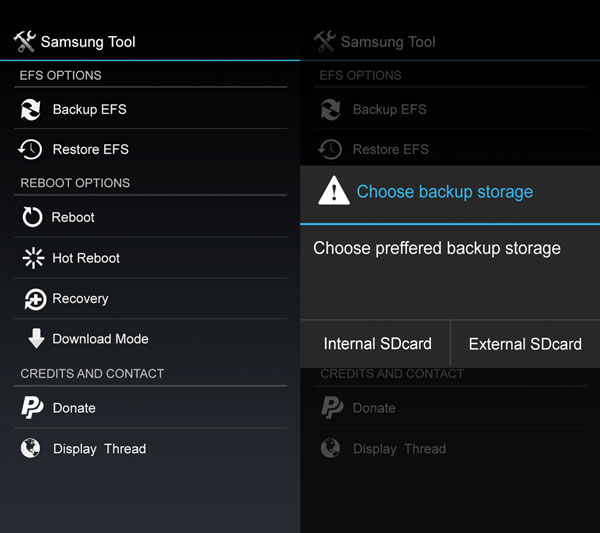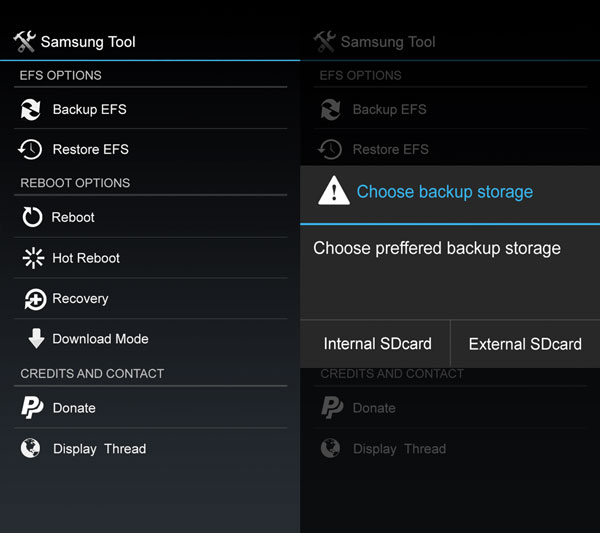 Samsung Tool is a program that you can install in certain Samsung devices to back up EFS files and to quickly go in different modes such as Download and Recovery mode. This tool supports the following Galaxy S5 variants: SM-G900A, SM-G900F, SM-G900H, SM-G900T.
Download Samsung Tool application for all Galaxy S5 variants here.
Go to the folder where the downloaded file is, click it and install it normally like every other app. Go to App Drawer and open Samsung Tool app. There are a few options besides Backup and Restore. Reboot, Hot Reboot, Recovery and Download Mode. To backup the files, click the option "Backup EFS".
After it has been backed up, you can find the file at Data > Media > SamsungTool folder. To restore them, do the same thing but this time click the restore button.