In this article we are going to show you how to add all GSM and LTE frequency bands on your Samsung Galaxy S5. If you are a person who travels a lot and goes to different countries very often, you know the struggle of having to carry more than one phone.
Because of frequency bands, smartphones do not work on all countries. For example, if you have bought a Samsung Galaxy S5 which works on Europe, it might not work on Australia or other continents because the phone does not support those frequencies.
Also Read: Galaxy Note 4 Accuweather Widget For Galaxy S5 Download and Install
Manufacturers do this to have high earnings because they release the exact same phone on different countries. They are exactly the same, the same processor, screen, battery and the only difference is the supported bands.
The good thing is that this is a software and not hardware limitation on the Samsung Galaxy S5. Manufacturers enable only frequency bands for the country where they are selling the device. So if someone wants to go to another country, they have to buy another phone.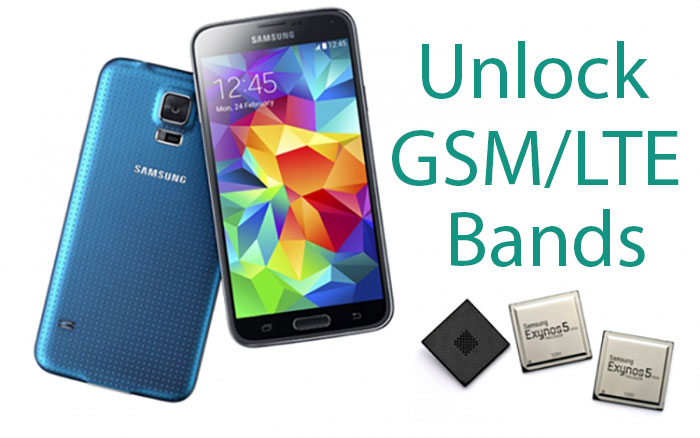 This is not the case with the Samsung Galaxy S5. The Qualcomm Snapdragon Galaxy S5 variant supports almost all GSM and LTE bands on the world, and with some knowledge you can make your phone work on all carriers of the world.
The process and tutorial are not the easiest you can ever find but taking the time to do it is well worth it. You will be able to use your Samsung Galaxy S5 on all carriers all around the world.
Please note that we are not responsible for anything that may happen to your phone. The tutorial has been tested on many devices and has not broken any of them. If you follow the tutorial carefully, nothing bad will happen to your phone.
There are a few things you should have before starting to enable all bands on your S5:
A Samsung Galaxy S5 with Qualcomm Snapdragon processor with root access.
Custom ROM and kernel installed.
Also Read: How To Enable Phone Call Recording On Galaxy S5
If you fulfill these two requirements, than you can go ahead and read the tutorial here. Users have reported that this process works on other Snapdragon devices like Nexus 5, Nexus 7 LG G2, Moto G, Sony Xperia Z, Z1 and HTC J.