Nowadays, Android is the most popular operating system in the world. It is used on smartphones, phablets, tablets and even on other electronic devices like Google Glass and different Navigating Systems. Some say it is the perfect operating system. Some say it's not.
Even though today Android is very popular with so many features and options, it has come a long way since the first release to achieve what it is today. KitKat 4.4 is the latest version of this OS. It is fast and it is getting adopted by new devices at a high rate. To reach KitKat, Android has gone through 10 different versions and we are going to highlight each version and its main changes.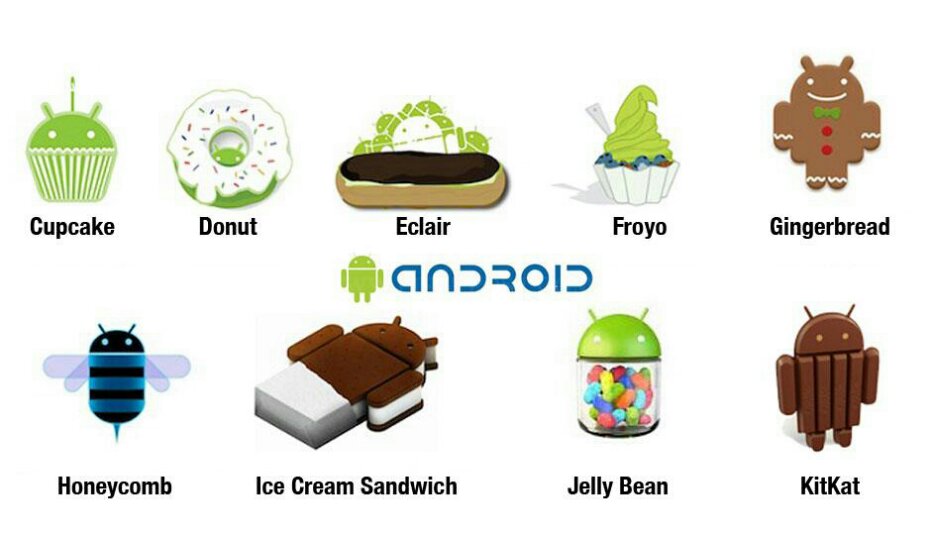 1. Android 1.1
Android 1.1 was released on 23 September 2008 and the first device to use it was the HTC Dream. This version received an Android Market application to download and update different apps and now it is called Google Play Store. Play Store is quickly catching up with App Store and it becoming the biggest app market for mobiles.
Wi-Fi and Bluetooth got supported and many Google services got added like Google Contacts, Calendar, Talk and Search. Another important feature of this version was instant messaging and MMS.
You can see that all these features above are considered something normal these days, but back then they were considered cool and important.
2. Cupcake 1.5
Android Cupcake 1.5, released on 27 April 2009 was the first version to be used by many devices. This update included several new features like auto-rotation option, copy and paste functionality in web browser, video recording, animated screen transitions and new UI elements.
3. Donut 1.6
Donut 1.6 was released on 15 September 2009 and some key improvements were support for WVGA screen resolutions, better performance, fully integrated camera and gallery and finally, you could select multiple photos or videos for deletion.
4. Eclair 2.0
Eclair 2.0 got released on 26 October 2009 and this version itself got some updates (2.0.1 and 2.1). For the first time you were able select different live wallpapers, a nice addition which really distinguished Android from iOS and Windows Phone. More devices with different sizes and resolutions got available, hardware speed got optimized and UI got revamped. The camera app got more features like flash support, digital zoom, white balance and macro zoom.
5. Froyo 2.2-2.3
Froyo, released on 20 May 2010 got some really interesting options. The browser was able to show all frames af a GIF, launcher received shortcuts to Phone & Brower apps and support for devices with high resolution displays got added. The most important update was Adobe Flash support. With Flash Support you were able to view videos on you browser without having to go to YouTube.
6. Gingerbread 2.3-2.3.2
Gingerbread 2.3 was the version that really made Android so popular. It was used by popular smartphones like Galaxy S2 and Evo 3D. Gingerbread was released on 6 December 2010 and this time UI was extremely fast and simple.
More Sensors got native support such as the gyroscope & barometer and the keyboard was improved with better accuracy and better suggested text. Copy/Paste function also got really easy. To select a word you had to long press and then select copy or cut. Simple as that.
7. Honeycomb 3.0
Honeycomb wasn't really an update to Gingerbread. Instead, it was a completely new version made specifically for tablets. It had a holographic User Interface, on screen buttons, multiple browser tabs (Just like in PC Browsers) and more camera features like camera exposure, time-lapse and the ability to manually focus an object.
8. Ice Cream Sandwich 4.0-4.0.4
Even though Gingerbread raised the popularity of Android, Ice Cream Sandwich was the biggest update of all with a new, much improved user interface, built-in photo editor, new gallery layout, ability to access apps directly from the lock screen and folders were easier to create.
Oh, and for the first time the option to take a screenshot was present. By holding down certain hardware buttons you could take a screenshot of your device.
9. JellyBean 4.1-4.3
JellyBean was the version which proved that Android was really able to be smooth and fast. Thanks to Project Butter, devices with JellyBean were very fast and barely lagged. Some functions like accessibility and voice search got improved and stock browser got replaced with Google Chrome.
10. KitKat 4.4
And here we go. KitKat is the latest version of Android and it is a big update because this version doesn't require high-speced devices to run and it is compatible with devices which have lower RAM capacity and slower chipsets.
In this version, the software buttons and status bar are able to dissappear when device is in full screen mode to bring a more immersive experience.
Well, that is it guys. The evolution of Android and all its versions. These were the biggest improvements which were worth to be mentioned.