Rockstar has just released an amazing trailer about the upcoming GTA V game for next-gen consoles, the Playstation 4, Xbox One and also for PC. Unless you have lived under a rock, you know what Grand Theft Auto is.
GTA is a action-adventure game series in third-person mode. It is a game where you can explore cities, use guns, driv cars, find new places and everything that a person would do in real life.
Also Read: 5 Best FPS Video Games Ever Made For PC
GTA V (5) is the most sold GTA title ever. It is the successor of GTA IV (4), another popular title. GTA V introduces new graphics, latest car variants and it allows you to explore the entire city of Los Santos.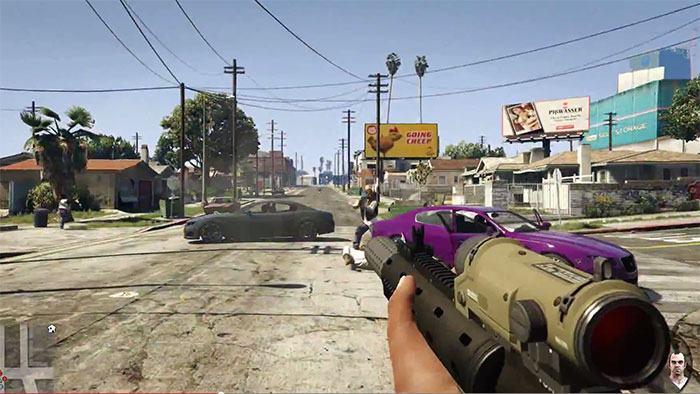 The main characteristic of Grand Theft Auto is that it is in third person. This has been so since the release of GTA III (3) around 12 years ago. The same thing was with GTA V.
But today, Rockstar released a trailer that not many people were expecting to see. GTA V is going in first-person view soon! Next gen consoles, the PS4 and Xbox One as well as PC will get the GTA V game with two person view modes: third-person view like we are all used to see and first person. And this is something new!

The trailer is simply amazing. There are so many details now like inside car view while driving, if the character is hurt there will be marks on the body and gun fights will be better than ever.
Also Read: Why Is Minecraft So Popular and Addictive (Reasons & Opinions)
This will attract a lot of first FPS games fans. Even though GTA has gun fights involved, it is not very entertaining playing in third-person view. But enough with words. You can see the trailer yourself on the video above.