Enter the LG giveaway and get a gold variant of the LG G3 for free. The G3 is LG's flagship device and has a lot of features and options that make the phone wanted by many people. The LG G3 is one of the few devices which has an ultra dense QHD display, 3 GB RAM, great build quality and a lot of software features.
Having all these options and features increases the price of the LG G3 a lot and so not many people can buy it. All the excellent specifications make it the ideal phone for everyone who wants good build quality, great camera performance and great user experience.
Also Read: Fix LG G3 Overheating High Temperature Problem
If you really want the new phone but don't have enough money to buy it, you are in luck. LG is holding a contest and will giveaway a brand new LG G3 for free. The contest is very simple to enter and everyone can join. One thing to know is that the giveaway is only inside the United Kingdom. Other countries unfortunately are not included.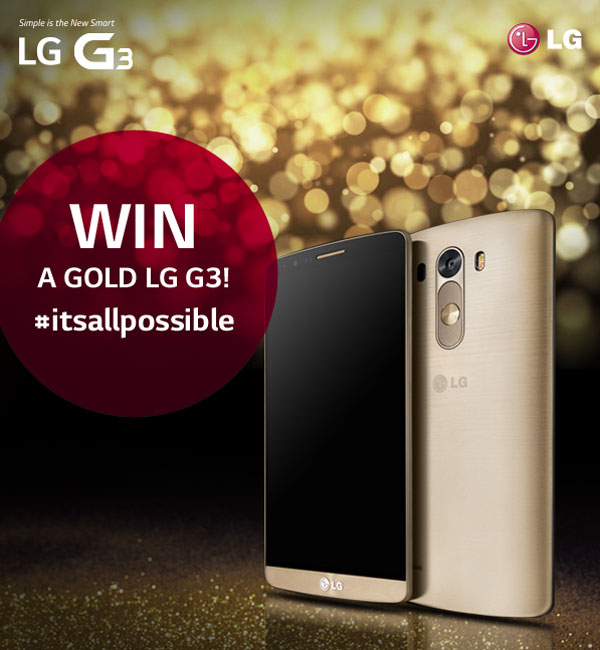 To enter the giveaway, you simply have to go the official site of LG here. There, you have to watch a video, answer only one simple question and then submit your answer. The winner will be announced on 21st August on official social pages of the company.
Also Read: How To Improve LG G3 To Maximum And Make It Better
This is a great way for LG to increase the popularity of the its flagship device. The G3 is considered as the best phone ever created by LG. Previous LG phones have also been great but they didn't receive the deserved attention. This time, the company is trying hard to make users to buy the LG G3.