The Samsung Galaxy S4 will soon receive the official Android 5.0 Lollipop update from Samsung. Even though Samsung dropped support for the Galaxy S3 and never updated it to Android 4.4.2 KitKat, it still supports the Galaxy S4.
Samsung updated the Galaxy S4 to 4.4.2 KitKat a few months ago and looks like it will update the phone to official 5.0 Lollipop with Touchwiz skin firmware, as seen on leaked videos and screenshots.
Also Read: Android 5.0 Lollipop on Galaxy S5, S4, LG G3, Xperia Z1, Z2 ,Z3 (Screenshots & Videos)
Recently, a video has been published comparing Android 5.0 Lollipop and 4.4.2 KitKat with Touchwiz UI skin firmware on the Galaxy S4. The video compares some of the biggest changes that Lollipop brings over the old version of Android.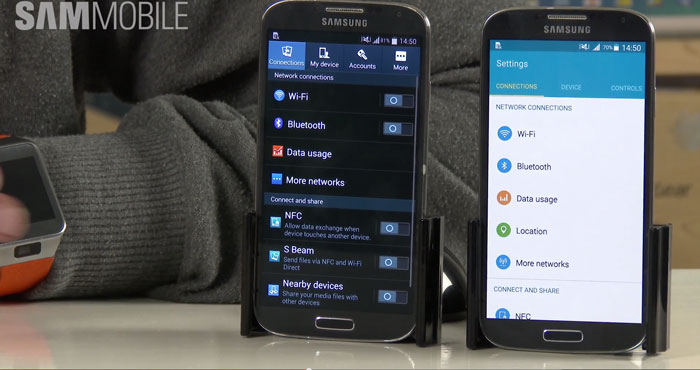 Of course, the biggest change is the user interface, though it is not as huge as stock Android difference is. First of all, the icons are different. All the unnecessary shadows are gone and icons are simpler and cleaner.
The launcher is also different. It is all about simplicity. It takes fewer steps to go to the "Wallpaper" menu and select a background image. There is an option on Lollipop where launcher scroll animation can be changed to "card stack" or "none".
Applications are different too. They carry the Material Design of Lollipop with status bar color changing according to the app that is opened. The dialer menu, calculator and stopwatch are different too.
Also Read: Samsung Galaxy S3 Android 5.0 Lollipop AOSP ROM (Download & Install)
Samsung has moved away from the blue color and has gone with green this time, at least on the dialer app. The Android 5.0 Lollipop Touchwiz update for the Samsung Galaxy S4 is expected to seed at the beginning of 2015.