The Galaxy Note 4 is Samsung's hottest device at the moment. It features a brand new steel frame, QHD high-resolution display, big beautiful 5.7″ screen, Android 4.4.4 KitKat and the iconic S PEN.
The device is already available in a few selected markets such as South Korea but it has yet to make its official international debut. Still, thousands of people have already bought the Korean variant of the phone.
Also Read: Experience Galaxy Note 4 Features With Experience App
The Note 4 has a 3,220 mAh which is only 20 mAh bigger than the battery found on the Samsung Galaxy Note 3. In theory, the battery life should be the same or worse on the Note 4 than on the Note 3 because of the faster processor and higher resolution display.
But during the launch event of the phone, Samsung told everyone that the battery life is actually 7% better thanks to hardware and software optimizations. Many people were sceptical about that until the official battery life test was done.
Surprisingly, the Samsung Galaxy Note 4 turned out to have the best battery life for QHD devices leaving behind the Oppo Find 7, LG G3 and Galaxy S5 LTE-A. However, many users are reporting the opposite thing.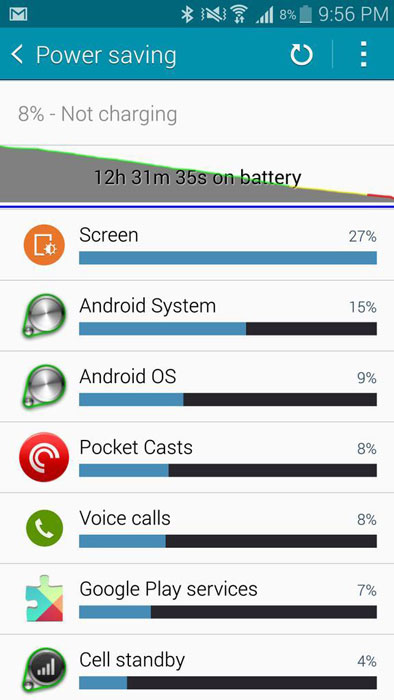 Based on complaints that we ave received, most of users barely go through the day with only 3 hours of screen on time. For a high-end Android device, 3-4 hours of screen on time is not good. This is surprising considering how good the Galaxy Note 4 managed to do during the battery test.
Also Read: Samsung Galaxy Note 4 Survives Front Face Drop Test, Almost
If you have bought the phablet, are you experiencing the same battery life problem? Screen on should never be below 4 hours on moderate usage. Everything below that is not good.