The Samsung Galaxy Note 4 has been facing a lot of problems lately, but web browser lag is becoming annoying for many users. Users are reporting Galaxy Note 4 web browser lag issues but this shouldn't really happen on this kind of device.
The Samsung Galaxy Note 4 is one of the fastest smartphones in the world with 3 GB RAM and Snapdragon 805 Snapdragon chipset for the best performance. The Samsung Galaxy Note 4 is so fast that it is able to run 10 applications at the same time without any major lag using multi window feature.
Also Read: Easily Disable and Delete Bloatware on Galaxy Note 4
When you see this kind of power, you would expect no lag from the phone. At the end, it can run 10 apps simultaneously without any lag. Still, the phone is experiencing problems with the browser performance.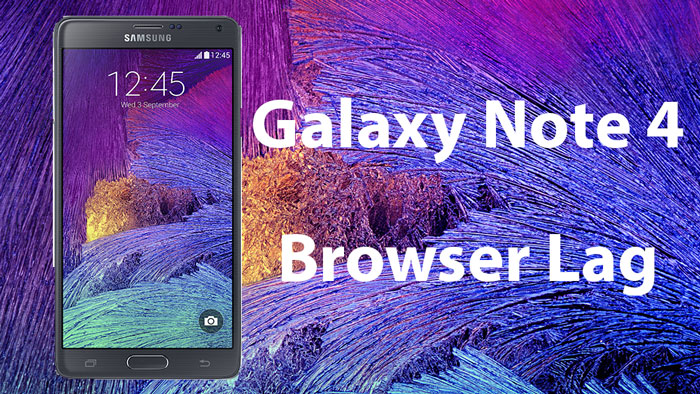 Web browser lag on the Galaxy Note 4 occurs very often. The screen freezes when you try to scroll a webpage or jump when scrolling. The performance feels sluggish and very slow.
Since this is a common problem, there a few solutions to this problem.
Solutions to Galaxy Note 4 web browser lag issue
Change browser
The problem occurs more on the stock Samsung browser. The stock browser that Samsung phones come with is not the best you can get. It lags frequently and sometimes it loads webpages very slowly.
To fix this, download a third-party browser from the Play Store. The best browser you can download is Chrome. It is fast, smooth and has a lot of features.
Disable power saving mode
Power saving is a mode that all Galaxy phones have. It improves battery life but it makes the performance slower. It makes the performance slower by reducing CPU frequency and usage.  If you have enabled power saving for some reason, you can easily disable it.
Also Read: Download Safest & Most Secure Browser for Android Devices
Go to Settings and find the "Power Saving" option. Tap on it and select either Power Saving mode or Ultra Power Saving mode. Uncheck the box. You can also disable background data and enable grayscale mode.