Material Design is for sure taking over the Android world. We are seeing every possible app on the Play Store getting updated with Material design elements which make them simpler, cleaner and improve user experience.
Another thing that makes the user interface look like 5.0 Lollipop are the wallpapers. Even though the biggest changes are inside apps, wallpapers have their own importance.
Also Read: Download Google Maps v9.0 APK With Material Design
That is why Google released a fresh pack of wallpapers on 5.0 Lollipop. But they are quite limited and don't suit to all users. If you are looking for more Material wallpapers to you use on your Android phone or even other operating systems, there is a great app for this purpose and it is called Tapet.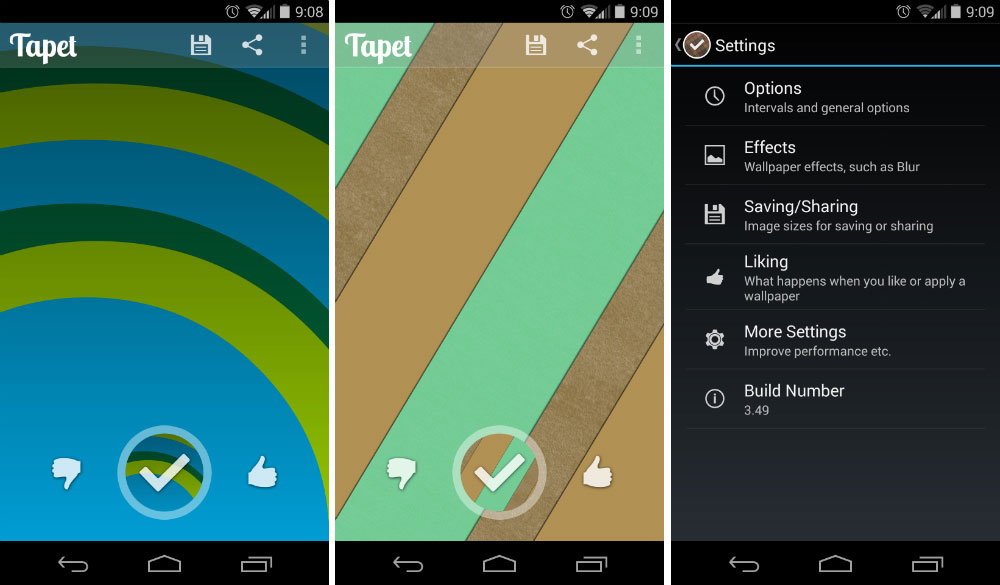 Tapet is an app all about wallpapers. It has a huge collection of different wallpapers. But they aren't just simple backgrounds. They are based on Google's Material design.
The app generates new wallpapers based on users' preferences. Basically, the app shows you a wallpaper and if you like it, it will show more similar pictures. If you don't like it, the app will show other pictures different from the previous one that you disliked.
Also Read: Download Samsung Galaxy Note 4 Settings UI App APK
If you really like one wallpaper, you can instantly download it. The app automatically detects your phone's resolution to display only high quality wallpapers.
Download Tapet app: Play link