The Nexus 4 is probably the most successful phone that Google has ever created. It is the successor of the Galaxy Nexus. It was popular because it came with the latest version of Android, 4.2.2 Jelly Bean, as expected with every Nexus phone.
Along 4.4.2 Jelly Bean, the Nexus 4 came with Snapdragon chipset and Adreno 320 GPU, 2 GB RAM and HD screen. The biggest feature of the phone was the all glass body. It was made of glass on the back and on the front.
Also Read: Install Nexus 6 Android 5.0 Lollipop ROM on Nexus 4
The Nexus 4 was 4G LTE ready since the release. But for some reason, Google encountered into a few problems and had to turn off the 4G LTE feature. It was disabled on the first update that Google seeded to the phone.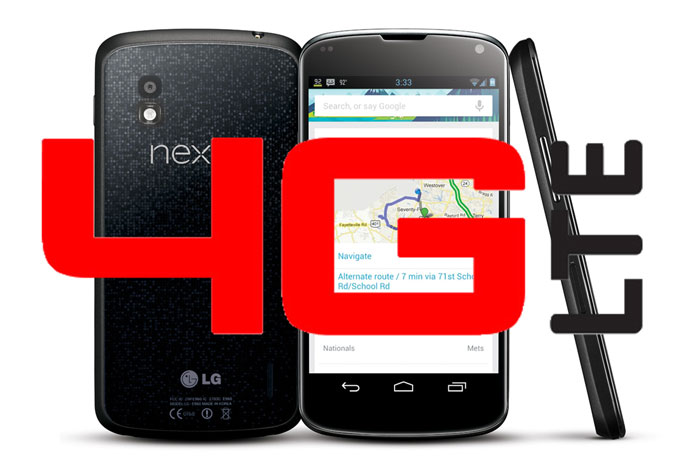 The Nexus 4 was a phone with 4G LTE modem but users couldn't use high-speed mobile internet because the feature was blocked. But after only a few days, users were able to modify the firmware and enable 4G even though Google disabled it.
The Nexus 4 has been updated to Android 5.0 Lollipop and users were able to do the same thing. Again, Google didn't enable LTE on 5.0 Lollipop so developers managed to enable it using a custom modem. Finally, you can enjoy high-speed mobile data on your Nexus 4 with Lollipop. You don't have to stay with 3G.
How to enable 4G LTE on Nexus 4 with Android 5.0 Lollipop:
Download  EnableNexus4LTE.zip and Hybrid Modem.
Flash EnableNexus4LTE.zip file. This will enable LTE on build.prop
Flash the Hybrid Modem.
Full wipe the phone so it will not bootloop.
Also Read: How to dual boot Custom ROMs on Nexus 4
There you go. Now 4G LTE has been enabled on your Nexus 4. For as long as mobile data is not activated, it will not drain more battery juice.