Hotspot or WiFi tethering is often considered as one of the biggest inventions for smartphones. WiFi hotspot allows you to share mobile data from your phone to every device that supports WiFi connectivity.
This option is very useful on many occasions. For example, if you go somewhere that doesn't offer WiFi networks and you need to work, you can pull out your phone, enable mobile data, enable mobile hotspot and you are done. Then you can connect every device you want like another phone, tablet or computer.
Also Read: How To Improve LG G3 Screen Colors Contrast Quality
Most of devices support this option but there are a few exceptions. If a carrier sells a phone, it can block and disable WiFi tethering feature until you upgrade your plan or pay for it. This is unfortunate because it is an option that all phones should have enabled by default. And this is happening with many LG G3 devices.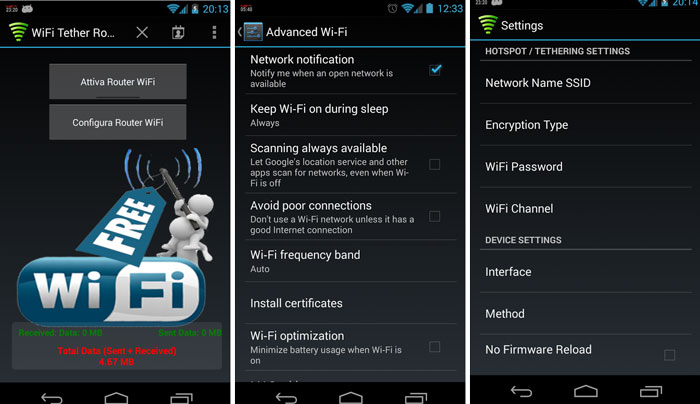 Users that are buying the LG G3 are reporting that WiFi tethering is disabled and they cannot activate it unless they upgrade their plan or contact the carrier. But thanks to the open nature of Android, you can enable Hotspot on your LG G3 by following the guide below.
Requirements
Rooted LG G3 device (tutorial)
WiFi Tether Router app (link)
How to enable LG G3 WiFi tethering
1. Open the app once you've downloaded and installed it.
2. Go to Configure WiFi router.
3. Go to Interface and tap on wlan0 option.
4. Go to Method and select Android 2+.
5. Reboot your phone.
Also Read: How To Enable Lock Screen Weather Effects on LG G3
These settings will fix your phone and will enable WiFi tethering hotspot functionality on your LG G3.