Every Android version has had its own little Easter Egg. To access it, you have to go to Settings > About Phone and quickly tap the Android Version 5 times. Then, the Easter Egg will open and it will be different for various devices depending what Android version they are running.
Gingerbread 2.3 had the simplest Easter Egg ever. After you've tapped the Android version five times, a picture called "Zombie Art" would appear. It was a picture made by an artist and it featured a Zombie Gingerbread man. Ice Cream Sandwich had flying Androids which looked a lot like the Nyan Cat.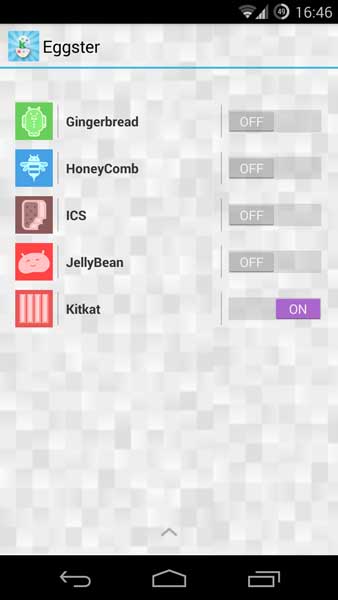 Jelly Bean had floating jelly beans which you could interact with and KitKat has a scrollable K letter which then transforms into an interesting "KitKat" background. The bad thing is that you can't enjoy all the Easter Eggs because they are locked to the specific Android version.
The good thing is that if you have a rooted phone, Xposed Framework installed, you can easily enjoy all the Easter Eggs of Android. A Xposed module called Eggster makes it possible to replace the original Easter Egg with the one you want.
Download Xposed Module Eggster here, install and activate it. Then go to Xposed Settings, go to Eggster Menu and choose your preferred E.G.