Now that you can install CyanogenMod 13 Marshmallow ROM on your Samsung Galaxy S6, you have the ability to dual-boot. Dual boot allows users to install and use two ROMs at the same time. In this case, you can use a stock TouchWiz firmware or ROM alongside a secondary ROM like CyanogenMod 13.
If you are thinking about installing CyanogenMod 13 but aren't ready yet to leave the stock TouchWiz ROM, then you can dual-boot both of them and use the one you like the most. When you get tired of that ROM, you can easily switch to another one without having to wipe data.
To successfully dual-boot on your Samsung Galaxy S6, you will need a custom recovery such as TWRP or PhilZ, CyanogenMod 12 CM13 ROM and the Dualboot Patcher program.
How To Dual Boot CyanogenMod 13 and TouchWiz ROM on Galaxy S6
To dual-boot TouchWiz and CyanogenMod 13, your phone needs to be rooted, otherwise the method won't work.
A kernel with root access is needed for Dualboot Patcher to work properly. Follow the guide below to learn how to dual-boot TouchWiz and CM13.
1. Turn the phone off and boot into recovery mode by pressing the volume up, home and power keys. Perform a full Nandroid backup. If something goes wrong, you can easily restore the backup later.
2. Download Dualboot Patcher APK and install it on your phone. Open the app and go to 'ROMs'. A window will appear asking you to set the kernel. Set it.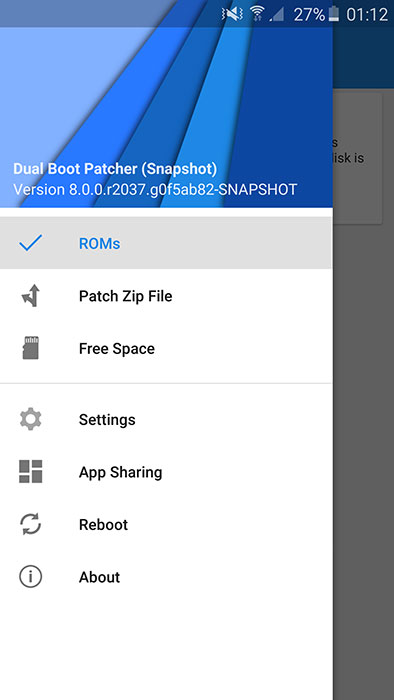 3. On your phone again go to 'Patch Zip File', select CyanogenMod 13 and Gapps and patch them to install in data. You also need to select 'zerolte' in the device section.
4. Turn the phone off and boot into recovery mode. Flash the ROM first and then Gapps.
Restart your phone and install Dualboot Patcher on the new ROM. Go to the ROMs section and you will be able to choose between TouchWiz and CM13 to boot.