Samsung has finally released the Secure Folder app to all Samsung Galaxy S7 and Galaxy S7 edge devices running on Android 7.0 Nougat. We saw the Secure Folder feature for the first time on the Galaxy Note 7 and since then it was a Note 7 exclusive. But this exclusivity has come to an end as Samsung is allowing S7 and S7 edge users to download it on their phones.
Secure Folder is a security method which separates apps and all the data you put in it from the rest of the phone. All the data is sandboxed separately on the device for an extra layer of protection. If a user want to access the protected files, he must have an authentication method, which can be a pattern, SIM or your fingerprint.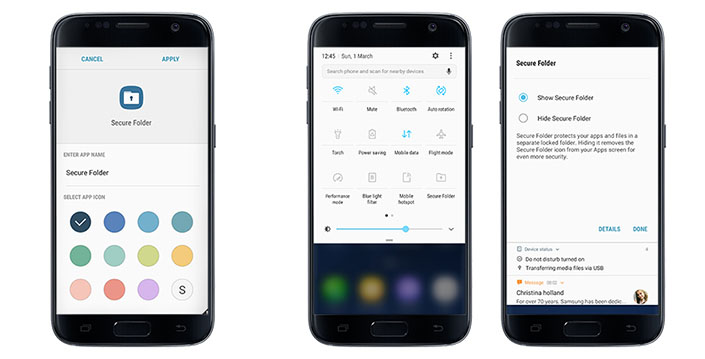 This feature can be easily downloaded on your phone, for as long as your phone is a Galaxy S7 or a Galaxy S7 edge and is running on a stock Android 7.0 Nougat TouchWiz firmware. If that is the case, the most difficult part is already over.
Download Secure Folder on Galaxy S7/S7 Edge
Installing and setting it up is quite easy. You need to download it from Galaxy Apps, sign in using your Samsung account and then move your apps and data by using the "Move to Secure Folder" option. There are various settings and options inside the app that you can use if you choose so.
As mentioned above, Secure Folder is currently available only for the Galaxy S7 and S7 edge, but according to their blog post, Samsung is planning on supporting more devices in the future.