Now that the system dump of the Samsung Galaxy Note 4 has been released, its applications and features will be ported to other Android devices too. One of the first things everyone does when a new device gets released is getting the system dump, extract all the goodies like wallpapers, system sounds, launcher, weather widget and all features and port them to other phones.
The system dump of the Samsung Galaxy Note 4 is finally here and the first applications have been extracted. If you don't know already, official lock and home screen wallpapers have been available for a while now for all smartphones. The Note 4 brought a brand new collection of colorful and beautiful wallpapers.
Also Read: Galaxy Note 4 Unboxing: Inside The Box Accessories
Now, you can download the Galaxy Note 4 Accuweather widget. The weather widget on the Note 4 is a lot different compared to the widget on the Samsung Galaxy S5. The S5 has a big rectangle weather widget with a picture on the background that changes according to weather.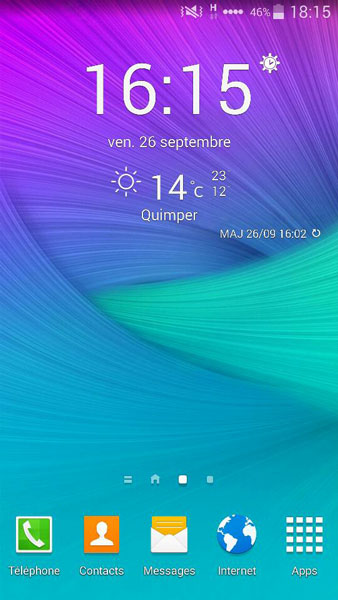 On the Galaxy Note 4, the weather widget is simpler and cleaner. Instead of the huge widget that takes half of the screen, now it is a simpler version which shows the time, temperature and if it is sunny or cloudy. The background picture is gone.
This means that you can set every home screen wallpaper you want without having to worry that it will not look good with the weather widget. The widget is simpler and resembles the stock Android weather app. If you want to get it, download Samsung Galaxy Note 4 Accuweather widget app.
Also Read: Most Expensive and Luxurious Case For Galaxy Note 4
Stay tuned for more articles because Samsung Galaxy Note 4 app pack with all apps like browser, S Voice and S Health  is coming very soon.