Download ported Sony Xperia Z2 keyboard application on all Android devices. The Sony Xperia Z2 is Sony's current flagship device. Even though it is the successor of the Xperia Z1, it doesn't have a lot of changes when it comes to the design. It has the same body language, same IP certification and same body materials.
While the design is almost the same, the software has changed a lot. Sony Xperia Z2 has the Timescape user interface which has been simplified and improved over the Xperia Z1 skin. One of the most noticeable changes is the new redesigned keyboard.
Also Read: How To Install Sony Xperia Theme on CyanogenMod 11 Devices
The new Sony Xperia Z2 keyboard has been considered by many as attractive and very intuitive. Typing on the Xperia Z2 is a big pleasure thanks to the big keys and flat design. You can link the keyboard to your Gmail or social media accounts for the best word prediction.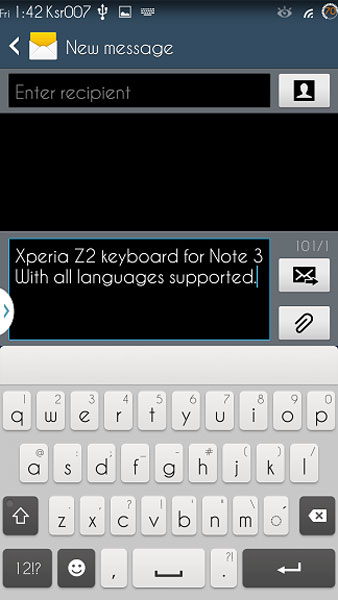 The keyboard application of the Sony Xperia Z2 has been ported to all Android devices. The ported keyboard application has multi languages support. It supports all skins and devices including Touchwiz, Sense, Stock Android, LG skin and other Xperia devices.
How to install ported Sony Xperia Z2 keyboard application
1. Download the keyboard here. It will be in zip format.
2. Boot your phone into Recovery Mode and flash the zip file.
3. Reboot your phone.
Also Read: Download New Flappy Birds Family And Share The High Score
Sometimes the new keyboard application might crash the original Samsung keyboard on Galaxy devices. To fix it, go to System > Lib and add the .bak extension to file the libswiftkeysdk-java.so.