Messenger is the newest application from Google. It replaces the stock messaging app, Hangouts. On Nexus devices, Google implemented the Hangouts app and you had to use it to send or receive SMS text messages. With the release of 5.0 Lollipop, Google replaced it once and for all.
The new messaging app is simply called messenger and has all the Lollipop goodies like Material Design and bright colors. With Messenger, you can send text messages and even group texts to each other. You can send photos, videos and audio files very easily.
Also Read: Install Facebook Chat Re-Enabler To Use Messages Without Messenger
Sharing pictures is very easy, you can search through contacts and conversations and send audio messages. The app has the option to block certain SMS senders so you will not get interrupted by them if you don't want.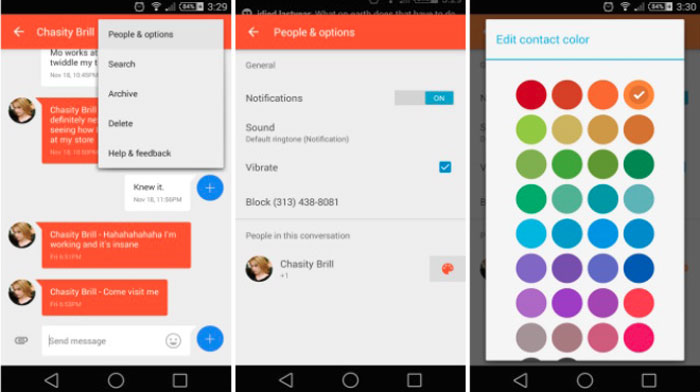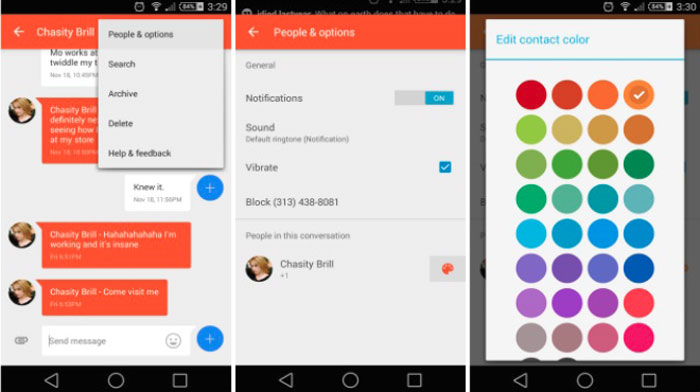 The Material Design theme is intuitive and fluid and supports all devices which are running on Android 4.1 Jelly Bean and above up to 5.0 Lollipop.
Download Messenger with Material Design APK here.
A recent update has added the option to choose contact colors so each contact has its own unique color. This way, you will find a certain contact a lot faster.
How to choose contact colors
Open the app.
Go to People and Options.
Select the color you want.
Also Read: Android 5.0 Lollipop Launcher, Apps, Keyboard APK, Wallpapers, Fonts, System Download and Install
You can also choose to enable or disable notifications for certain contacts so you will receive their messages but without getting disturbed.