After waiting for over half a year, there is a new Magisk update. Developer John Wu has recently announced Magisk v23.0. It is one of the biggest updates that Magisk has ever seen. The new version adds support for Android 11, safe mode detection in case of an accidental boot loop, a completely redesigned Magisk Manager app, a rewritten 2SI support from scratch, and a lot more. Magisk v23 also means the demise of Magisk Manager, since it is now integrated into the main app. You no longer have to install Magisk Manager separately;
In this article, we will cover some of the biggest changes that have been introduced on the new Magisk v23 build. Additionally, we will provide all the proper links for you to download the latest version and install it or upgrade over the old v21 version.
What is new on Magisk v23?
Magisk v23 is without any doubt the biggest release in the history of Magisk. According to developer John Wu, a lot of stuff had to be rewritten from scratch for the new release. Without forgetting about the newly redesigned Magisk Manager app, it is no surprise that it took over half a year for this release. Now let's take a look at some of the biggest and most important updates.
1. Full Android 11 Support
This is probably the most important update of this release. After releasing a number of Developer Preview builds, Google has finally released the final stable Android 11 build. Originally, Pixel phones were the first to update to the stable Android 11 build. However, thanks to an unprecedented commitment that OEMs are showing this year, a big number of other phones are already enjoying the latest OS version. Immediately after the launch event, OnePlus announced OxygenOS 11 for the OnePlus 8, Samsung announced the One UI 3.0 Beta Program for the Galaxy S20 series, and realme released the first Android 11 build for Realme X50 Pro.
All in all, there is a higher number of phones that are rocking the latest Android version this early. Most of these users are power users, which means the first thing they will try to do is root the new version and modify it. This leads to Magisk, which is the go-to tool of root.
Do not worry though. Even though Magisk v21.0 now fully supports Android 11, it will continue supporting older versions too including Android 10, 9, and 8.
2. Completely redesigned Magisk App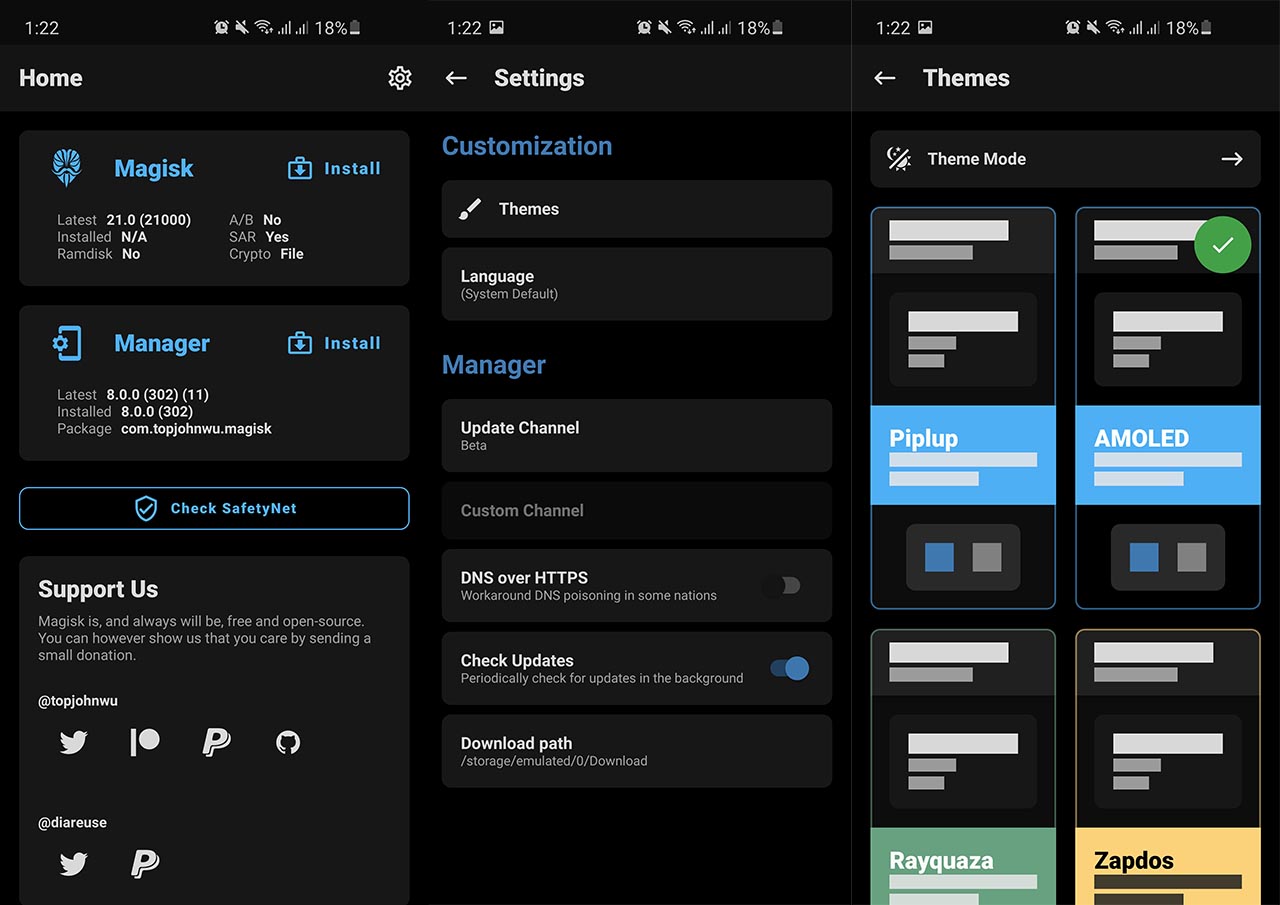 While all the spotlight is all over Magisk, we should not forget about Magisk Manager. The developer has released the new Magisk Manager 8.0.0, which is also the biggest change the app has seen. The old hamburger menu, while familiar, is now gone. Replacing the hamburger menu is a tab-based layout. All the menus are now at the bottom of the display. This makes them much more accessible and easier to reach.
Furthermore, there are eight themes that can be enabled across the app's user interface. There are different styles that cater to everyone. Personally, I really dig the AMOLED look using the dark theme.
3. Safe mode detection and boot loop prevention
One of the biggest recurring issues with Magisk has to do with its modules. Most of the modules that can be installed are useful and safe to use. However, some of them might cause boot loops due to compatibility issues.
Magisk v21.0 has fixed this issue thanks to the new safe mode detection feature. Essentially, if you install a module that causes boot loops, Magisk will detect it and will reboot into Safe Mode. Additionally, it will disable all modules, thus fixing any possible boot loops.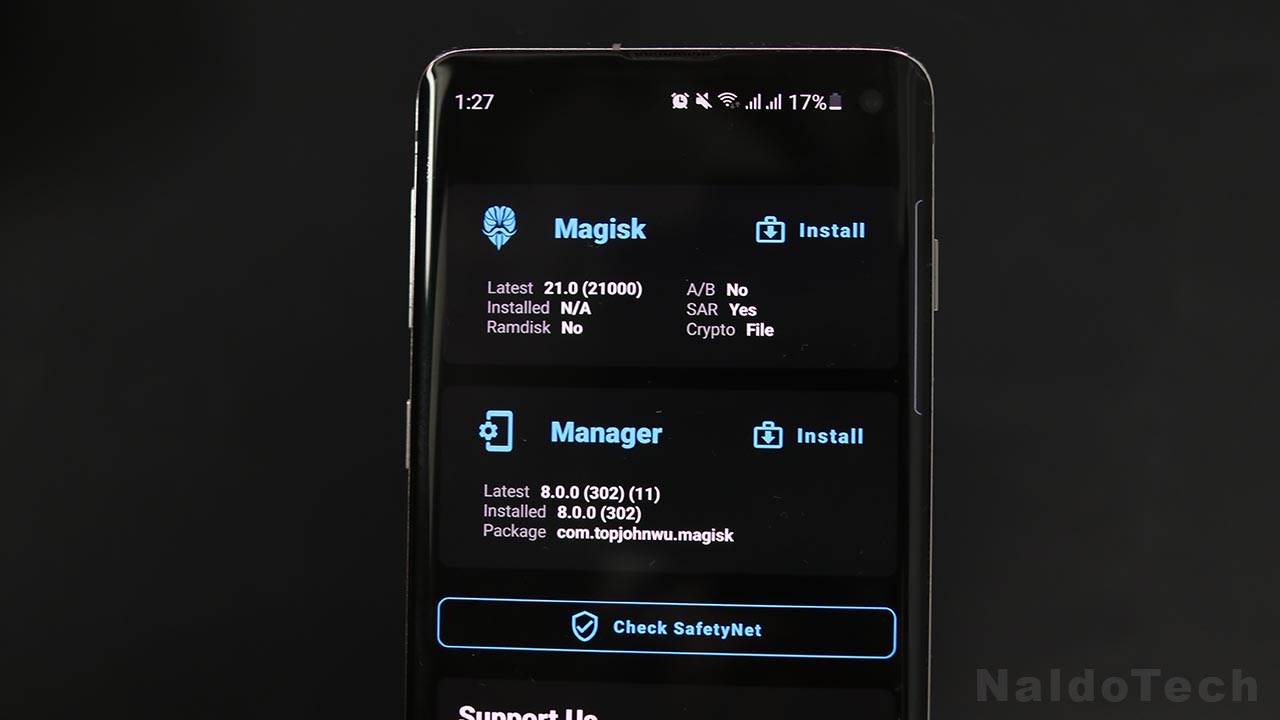 Magisk v23 changelog
[App] Update snet extension. This fixes SafetyNet API errors.
[App] Fix a bug in the stub app that causes APK installation to fail
[App] Hide annoying errors in logs when hidden as stub
[App] Fix issues when patching ODIN tar files when the app is hidden
[General] Remove all pre-Android 5.0 support
[General] Update BusyBox to use proper libc
[General] Fix C++ undefined behaviors
[General] Several sepolicy.rule copy/installation fixes
[MagiskPolicy] Remove unnecessary sepolicy rules
[MagiskHide] Update package and process name validation logic
[MagiskHide] Some changes that prevents zygote deadlock
The biggest highlight from the new changelog is the added support for Google Pixel 5 and Pixel 4a 5G.
The latest update adds root support for the Samsung Galaxy S21, S21 Plus and S21 Ultra on both chipsets, Exynos and Snapdragon.
Download Magisk v23 APK
Now that you know what has changed with the new update, it is time to download the proper files. As usual, the best way to install Magisk is to download the flashable ZIP file and flash it through a custom recovery.
Below you can download the installer, uninstaller, and the Manager app.
Latest Version
Older Versions
Magisk v22
Magisk v21.4
Magisk v21.2
Magisk v21.1
If you already have the old version installed, you can update it very easily. Install the latest Manager app and open it.  On the right side of Magisk there is a big blue button that says "Update". Tap on it.  Then select "Direct Install". The app will download and install the latest version.
If you do not have any kind of Magisk installed, you need to have a custom recovery installed. You need to boot into recovery mode and flash the flashable ZIP file (Installer). Similarly, if you want to remove it from your phone, you flash the Uninstaller file.
That is all about the brand new Magisk v21. A big thanks to John Wu, who keeps contributing to the Android community over the last years. Thanks to him, Android users have a go-to rooting tool, ever since Chainfire stopped his development work.