Unless you have been living under the rock this year, then you must have heard about Let It Go, the song from the Frozen movie which obsessed many children all around the world. The Frozen soundtrack sung by Elsa drove millions of adults crazy.
Children used to sing it all day and all night long making even parents obsessed after the song. In fact, many people have seen the movie Frozen only because of the song. Every radio and every TV show couldn't stop playing the song.
Also Read: Android 5.0 Lollipop Launcher, Apps, Keyboard APK, Wallpapers, Fonts, System Download and Install
Not only that, but on YouTube, hundreds of covers of the song were released. But if you have resisted from buying the song, then you have done the right thing because you can download it now for free from the Play Store.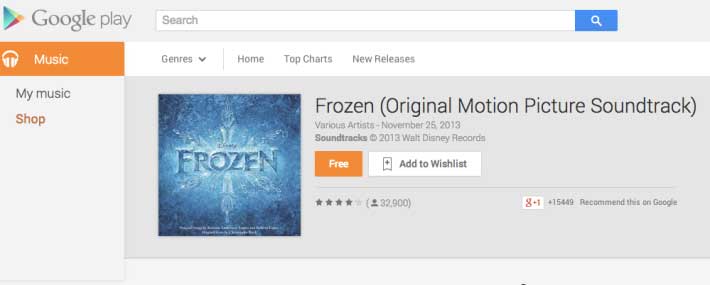 You can download the song for free and you can finally play it all day long for your children. This way, you have an excuse to play the song because accept it, you also love the song.
If you are ready to get obsessed and are strong enough to hear the same song all day, you can download it from the Play Store.
That is it. You don't have to buy it and you can finally enjoy the most played song of the year, after Happy from Pharrell Williams.
Also Read: Download Dolphin Browser 11.3.4 With Flash & Android 5.0 Lollipop Support
One thing to note is that the song is available only on the US market of the Play Store, so if you live anywhere else besides USA, you are out of luck.