Download and install full Sony Xperia Z3 System UI theme on the Xperia Z2, Z1 and ZL. The Xperia Z3 is the latest device from Sony and it has a faster processor, new system UI and better IP certification. The Xperia Z3 si IP68 certified which means it is more water-resistant and dust proof than both the Galaxy S5 and Xperia Z2.
These features make the phone desired and many people are looking forward to buy it. But it isn't yet available to buy or for pre-order so you have to wait a little. But until it launches worldwide, you can enjoy full Sony Xperia Z3 System UI theme on your Sony device.
Also Read: Download All 35 Beautiful Sony Xperia Z3 Wallpapers
System UI changes a lot on your phone like the status bar, notification menu and notification drawer. Here is a list of Xperia Z3 UI theme mod features:
New improved animations
Flashlight icon on Quick Settings menu
Swipe option between Settings and Notification tab
Edit Quick Settings using Drag & Drop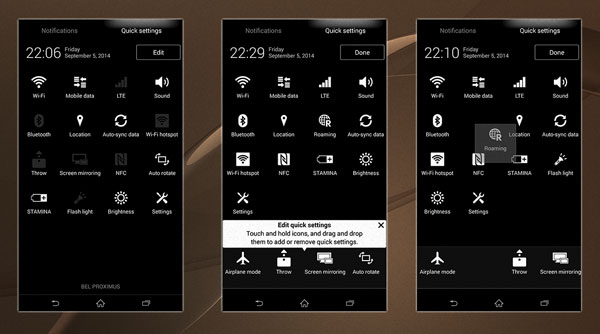 It is compatible and works perfectly well on the following devices: Sony Xperia Z2, Z1 and ZL. However, the developer is currently working to port the System UI theme on more Sony devices very soon.
Requirements
a) Rooted phone
b) Deodexed KitKat ROM
Install ZIP File
1. Download the mod and turn your phone off.
2. Boot it to recovery mode.
3. Flash the ZIP file.
4. Wipe cache.
5 Reboot your phone.
Also Read: Download Sony Xperia Z3 Sound Pack & Ringtones
Now your phone has Sony Xperia Z3 System UI theme. Stay tuned because soon you can install the full ported ROM and different applications.