You can install the Samsung Galaxy S7 and S7 edge Always-On Display feature app on other Android devices. One of the newest Samsung Galaxy S7 features that really impressed us with the Always-On Display technology. This feature is a first for Samsung devices. It is a software option which keeps the display on even when the user is not using the phone. It shows the clock, calls, messages and battery percentage in a plain white text. The rest of the background is black. This means you get the most important information without having to touch the phone.
As for battery usage, Samsung has promised that it uses less than 1% per hour. However, it doesn't end here. When the phone is face down or inside a pocket, it notices this and turns the phone off. This is a handy feature which is not limited to Galaxy phones only.
Always-On is a simple software feature and it is not hardware-related. This means that other Android phones get to enjoy the Always-On Display feature of the Galaxy S7, or something very similar. An app on the Play Store called Glance Plus is very similar to the Always-On Display feature.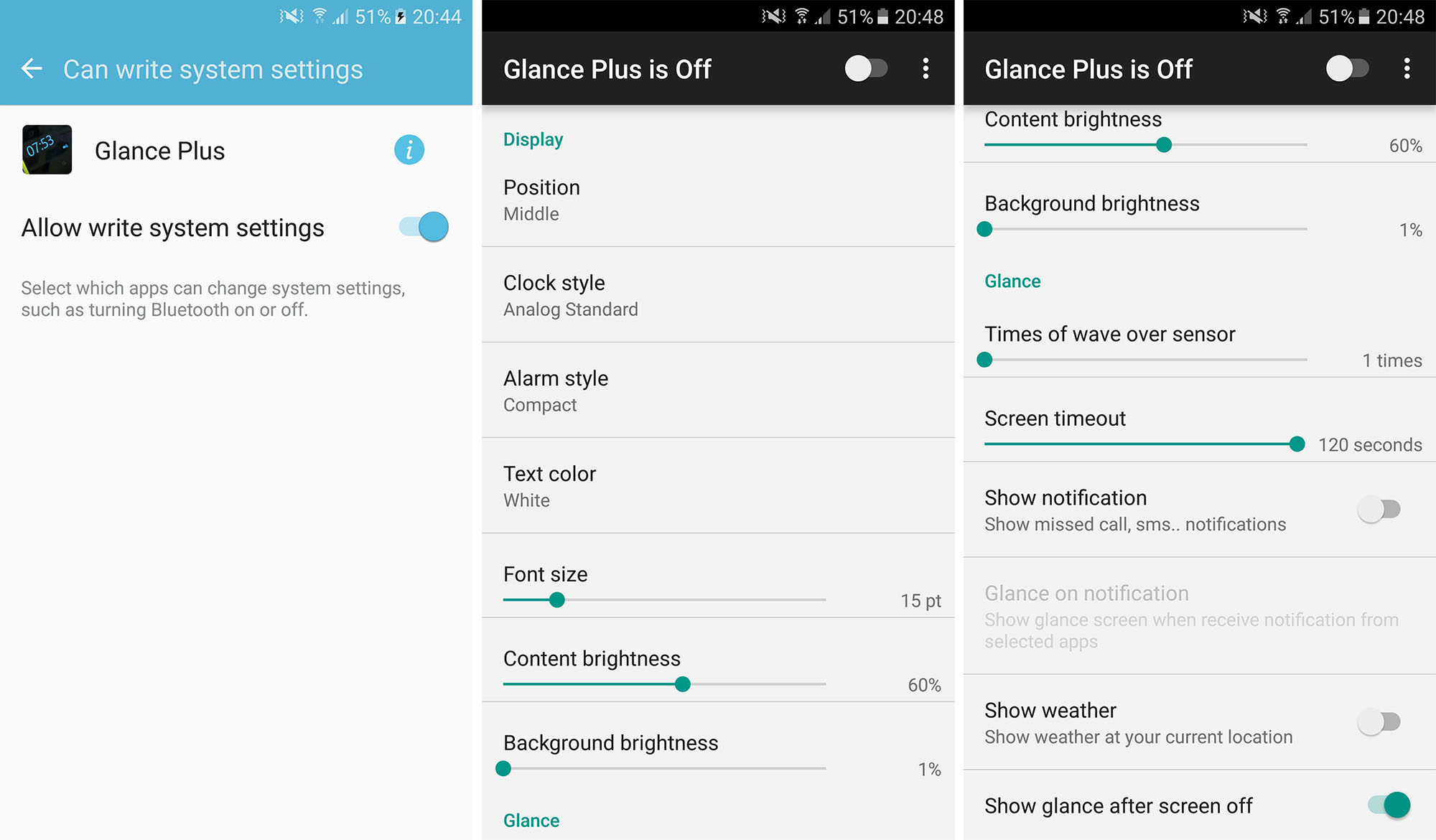 It shows the clock, date, day of the week and the battery percentage. The app is customizable so you can choose different clock style (digital, analog), background brightness, and more.
Download
How to use the Glance Plus app on your Android phone (Galaxy S7 Always-On Display)
Download the app on your Android phone and open it. It will ask you to "Allow write system settings". Do so. Then you will be sent into the app's homepage. There, you can change the clock position, text color, font size, content brightness, background brightness, screen timeout, weather, notifications and much more. Then you need to tap the little dot at the top right corner to activate the app.
This is the closest you can get to installing the Samsung Galaxy S7 Always-On Display on all Android phones until a proper port of the feature in the form of APK or zip goes out for Samsung phones (S6, S5, Note 5, Note 4 and more).