Download and install Android L lock screen on all Android devices and all manufacturer skins. Android L is the biggest Android update yet. Many users have liked a lot the new version and can't wait to get it on their devices. Among many improvements and changes, Android L brings a new lock screen design style.
The new Android L lock screen which can be installed on other devices has an improved and simpler design. Starting from Android Ice Cream Sandwich to KitKat, the lock screen has been always the same. There was a lock icon on the middle and you had to drag it to the side to unlock your phone.
Also Read: Android L Bug List (Problems & Issues)
On Android L, the lock screen design is much more different. Now, to unlock the phone you have to swipe up starting from the bottom. This unlocking mechanism is somewhat similar to Windows Phone because you also have to swipe up to unlock Windows Phone devices.
You now have the opportunity to launch apps directly from the lock screen. When you slide your finger to the right it will open the dialer or phone application and when you slide your finger to the left the camera application will open so you will not miss and leave any important moments without capturing.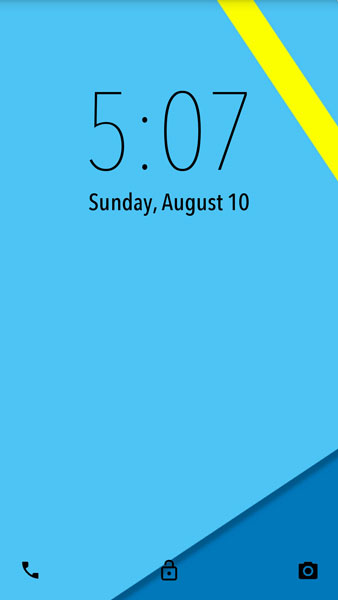 Android L is just around the corner and it will be officially available just a few months later. But if you want, you can download and install the new Android L lock screen on your phone right now.
How to install Android L lock screen
1. Download Android L lock screen APK app here.
2. Install the app and open it.
3. You will have access to a few options to customize Android L lock screen.
4. You can choose the background wallpaper, allowed apps and notifications settings.
5.  Once you are done, click Enable Android L lock screen.
Also Read: How To Download and Install Full Android L Theme
Now your phone has Android L lock screen installed. This app works on all devices with Android 4.0.4 and higher and supports all skins like Samsung Galaxy Touchwiz, HTC One Sense and Sony Xperia UI.