Android is the best mobile operating system surpassing iOS and Windows Phone 8 for many reasons. It is the only operating system which is open source and can be customized to the user's preferences.
On iOS and Windows Phone 8 you cannot do anything. You cannot install live wallpapers, themes, apps not from the App Store, without jailbreaking the device first.
Also Read: Download Samsung Galaxy Note 4 Apps and Wallpapers
Android has a big problem that has been a huge downside for many years. This problem is called "Lag". Lag has always been something that has accompanied Android.
Google has really tried to fix this problem starting with Project Butter on Jelly Bean which made all animations run at 30 fps. Then KitKat was designed for devices with only 512 MB RAM.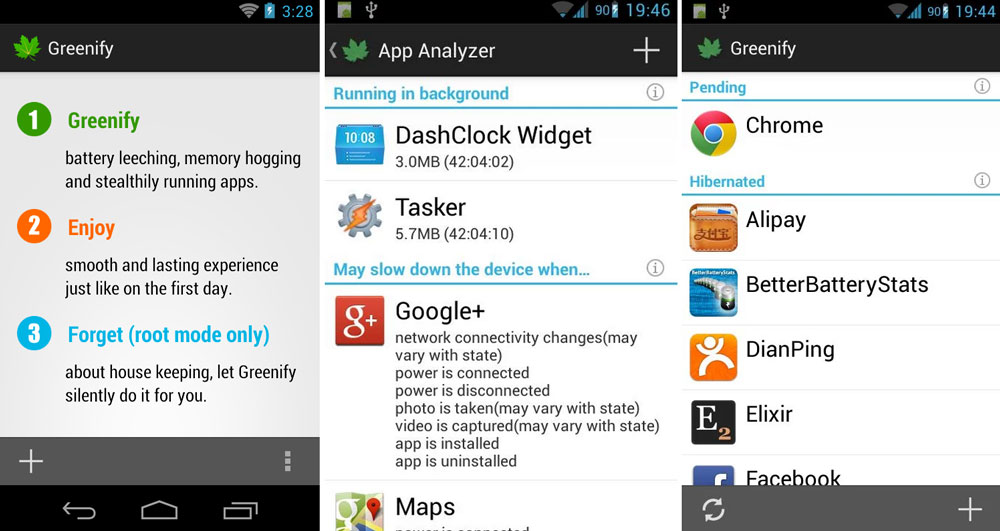 Still, lag is present, especially on Galaxy devices with Touchwiz. There is an easy way to fix lag problem on Android. Greenify is an app that is designed to make your phone faster.
Greeenify  has a built-in Analyzer which analyzes and shows apps that keep running services that drain battery and make the phone slow. You can freeze, quarantine and kill apps that make the phone noticeably slow and laggy.
Recently, the app has been updated to version v2.5 which has added support for non rooted devices. Previously, Greenify required root access to work properly but now it can be used even without root.
Greenify v2.5 Beta 1 and Beta 2 have added support for Android 5.0 Lollipop and battery life is better.
Also Read: Android 5.0 Lollipop Launcher, Apps, Keyboard APK, Wallpapers, Fonts, System Download and Install
Download Greenify v2.5 APK: Greenify.v2.5.beta3.apk or the stable version here.