Google Keyboard has received an update that brings a few changes and improvements over the old version. Google Keyboard is one of the most used and popular keyboards for Android devices.
It is used as the default keyboard application on custom ROMs like CyanogenMod and other AOSP ROMs. The new update comes with 3.2 version and build number. Reportedly, it will be the last KitKat update for this device.
Also Read: Download ACEMusic Player APK With Material Design
We say KitKat because this update still doesn't have Android 5.0 Lollipop with Material Design theme like the ported app has. This is because the version number is still lower than version of Android L keyboard.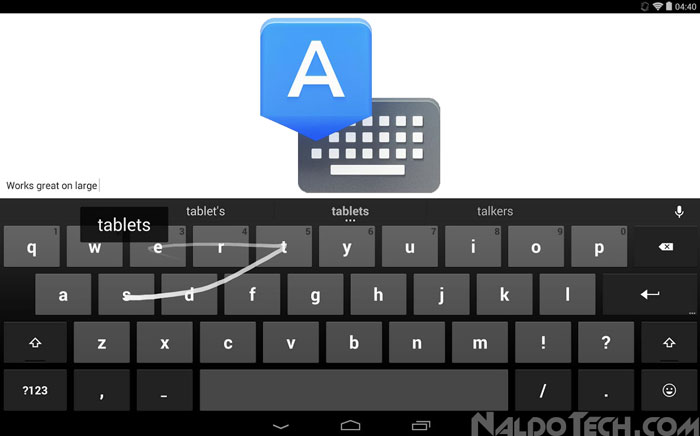 Google Keyboard v3.2 brings a lot of new features where two are most important:
8 new added languages
New reorganized app Settings menu
If you use this keyboard a lot and are not a speaker of supported languages of the app, you can now select from 8 other new languages that the update has brought. The new languages are Hindi (Compact), Bengali (India), Malayalam (India), Marathi (India), Tamil (India), Kannada (India), Tamil (Singapore) and Telugu (India).
Another big change is the Settings menu user interface. All options and settings are now reorganized in categories. The main Settings menu used to be a long list of options and configurations which was very cluttered and unorganized. But the new design is simpler and easier to understand for all users.
Also Read: How To Use Facebook Messages Without Messenger App
Download
Download link: com.google.android.inputmethod.latin-3.2.19963.1491898-19963-minAPI14.apk
Version: 3.2.19963.1491898 (19963)
MD5: 4611bcbfabf370bb0b19e5a071016952