Android L Calculator has been officially published and you can download and install it on your Android device. A lot of applications taken from Android L have been ported to previous versions of Android.
Until now, we have seen how to replace stock KitKat navigation bar with Android L navigation bar, how to install Android L theme and also how to download and install Android L wallpapers, keyboard app and boot animation.
Also Read: How To Install Android L Theme on Google Now Launcher
But that it not it. Other Android L applications have been ported and published to the Play Store for all Android users to enjoy them. This time is the Android L calculator app.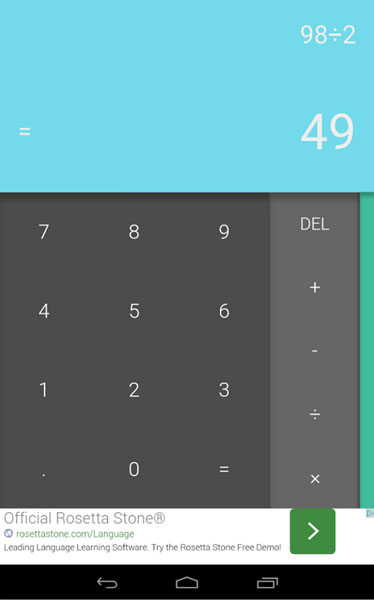 The calculator app has the new Material design with new colors including grey and light blue. Besides the normal calculator interface where you can do basic calculations, you can also display the scientific calculator where you can do more advanced things.
Also Read: How To Enable/Install Android L Navigation Bar
The app is available on the Play Store and all devices with Android 2.2 higher can install it. Download Android L Calculator app here.